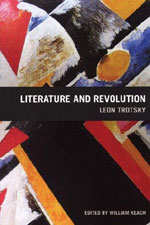 LITERATURE AND REVOLUTION
By Leon Trotsky
Edited by William Keach
Haymarket Books (2005, world English rights)
Paper • ISBN-13: 9781931859165 • US $16 • 8.3 in x 14.5 in • 300 pgs.
ABOUT THE BOOK:
A new, annotated edition of Leon Trotsky's classic study of the relationship of politics and art. Trotsky penned this engaging book to elucidate the complex way in which art informs — and can alter — our understanding of the world. This new edition features an essay and full explanatory notes from Brown University English professor William Keach.
PRAISE:
"Roll over Derrida: Literature and Revolution is back in print. Nothing in the postmodern canon comes close to the intellectual grandeur of Trotsky's vision of art and literature in an age of revolution, or his extraordinary meditations on the popular ownership of culture."
Mike Davis, author,City of Quartz
"Re-reading Trotsky on literature forty years later is a delight. Literary critics of every persuasion could learn a great deal from this book. His defense of the classics and criticism of the avant-garde will surprise some, but when he mocks narcissism and says of the writer that he 'is always preoccupied with his own self, tells stories about his own self, walks around his own self, sniffs at his own self, and licks his own self,' many contemporary writers and columnists come to mind."
Tariq Ali, author, The Clash of Fundamentalisms
"It will be a pity if the truculent tone of this book should deter readers from studying it closely, particularly as Trotsky's argument grows more significant and less partisan as we advance. … His book has the vices and virtues of crude power ranging itself indiscriminately against self-conscious culture. Nevertheless his studies of particular authors are often as brilliant in analysis as they are violent in abuse; and the suggestiveness of much of his materialist dialectics is undeniable."
Times Literary Supplement
"Trotsky displays as a critic not only, what one might perhaps expect, a kind of brilliant ferocity, but also considerable subtlety."
Leonard Wolf
ABOUT THE AUTHORS:
Leon Trotsky was a leader of the 1917 Russian Revolution and is the author of My Life, The History of the Russian Revolution, and The Revolution Betrayed.
William Keach is Professor of English at Brown University. He is editor of Coleridge's Complete Poems (Penguin, 1997) and author of Arbitrary Power: Romanticism, Language, Politics (Princeton, 2004).
RIGHTS INFORMATION:
Languages & Territories Where Rights Have Been Sold:
Please contact subagents for the following languages and territories:
For all other languages/territories, please contact Roam Agency.