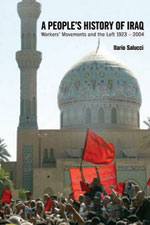 A PEOPLE'S HISTORY OF IRAQ
The Iraqi Communist Party, Workers' Movements, and the Left, 1924-2004
By Ilario Salucci
Foreword by Tariq Ali
Haymarket Books (2005, world English rights)
Paper • ISBN-13: 9781931859141 • US $12 • 7.1 in x 5.0 in • 208 pgs.
ABOUT THE BOOK:
Whether standing up to British occupiers, the monarchy they installed, or the brutal dictatorship of Saddam Hussein — who for many years was a friend and ally of the United States — the workers' movement and the Left in Iraq have a rich history of fighting for a more democratic society.
This is the only book of its kind on the history of the Left and workers' movements in Iraq. It includes a valuable analysis of the Iraqi Communist Party, and sheds light on the "other Iraq," that of the working classes and their struggles, an Iraq that was completely ignored by the media and by the left wing during the dramatic days of preparations for war by the U.S.-British coalition. The present volume attempts to reconstruct the history of the Iraqi Communist Party and the Iraqi workers' movement, an essential part of the country's past that remains largely unknown.
ABOUT THE AUTHOR:
Ilario Salucci is an Italian activist and journalist who has spent years studying the hidden history of resistance in Iraq.
RIGHTS INFORMATION:
Languages & Territories Where Rights Have Been Sold:
| Language/Territory | Publisher |
| --- | --- |
| Italian/worldwide | Cooperativa Colibri Societa |
| Turkish | Agora Kitapligi |
Please contact subagents for the following languages and territories:
For all other languages/territories, please contact Roam Agency.