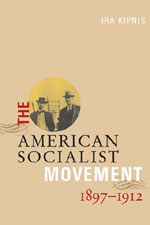 THE AMERICAN SOCIALIST MOVEMENT, 1897-1912
By Ira Kipnis
Haymarket Books (2004, world English rights)
Paper • ISBN-13: 9781931859127 • US $20 • 8.9 in x 6.3 in • 496 pgs.
ABOUT THE BOOK:
The American Socialist Party, at the height of its influence, had more than a hundred and fifty thousand members, published hundreds of newspapers, won almost a million votes for its presidential candidate, elected more than one thousand of its members to political office, secured passage of a considerable body of legislation, won the support of one-third of the American Federation of Labor, and was instrumental in organizing the Industrial Workers of the World. It counted in its ranks some of the most talented organizers, able thinkers, and colorful personalities of their generation, conducted an immense propaganda effort, and, for a time, multiplied its support and influence at an astounding pace.
The rise and decline of the Socialist Party constitutes a most important and instructive chapter in American history. Few books have more to offer to the student of the movement than this one.
PRAISE:
"This is the epic story of the struggle to build a mass socialist movement in ragtime America. Kipnis was a brilliant historian and this is his enduring gift to activists."
Mike Davis, author, Dead Cities and Planet of Slums
"The American Socialist Movement 1897-1912 scrutinizes the rise and decline of the American Socialist Party, which at its height had more than a hundred and fifty thousand members and almost a million votes for its presidential candidate. A classic history first written in the mid-twentieth century, The American Socialist Movement discusses socialist ideology in the early 1900's, party propaganda, the influences of Christianity and immigration, attacks on constructive socialism, the repercussions of factionalism, the recall of Bill Haywood and much more. An extensively researched and documented account ideal for scholarly study and reference, and a welcome addition to college library and reference shelves."
Midwest Book Review
ABOUT THE AUTHOR:
Ira Kipnis taught political science, American history and constitutional law at the University of Chicago. In 1953, he invoked the Fifth Amendment during Senator Joseph McCarthy's hearings on communist activity rather than testify about the political views of colleagues. He subsequently resigned from the University faculty and entered law school. Kipnis died in 2002.
RIGHTS INFORMATION:
Please contact subagents for the following languages and territories:
For all other languages/territories, please contact Roam Agency.