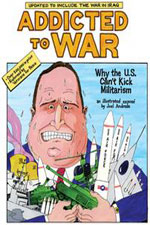 ADDICTED TO WAR
Why the U.S. Can't Kick Militarism (Updated 4th Edition)
By Joel Andreas
Over 300,000 copies now in print! Updated to include America's drone wars.
AK Press (January 2015, world English rights)
Paper • ISBN-13: 9781902593579 • US $10 • 10.9 in x 8.4 in • 69 pgs.
ABOUT THE BOOK:
Addicted to War takes on the most active, powerful and destructive military in the world. Hard-hitting, carefully documented with 161 reference notes, and heavily illustrated, Addicted to War reveals why the U.S. has been involved in more wars in recent years than any other country.
Read Addicted to War to find out who benefits from these military adventures, who pays and who dies.
One of Roam's all-time bestsellers — beloved by activists and teachers all over the US and beyond — Joel Andreas's Addicted to War is now available in a brand-new edition! Updates include Obama's drone wars, Chelsea Manning and Wikileaks, up-to-date statistics on military spending, and the ongoing costs and consequences of wars in Iraq and Afghanistan.
PRAISE:
"Addicted to War is a witty and devastating portrait of U.S. military policy, a fine example of art serving society."
Howard Zinn, author, People's History of the United States
"I highly recommend [Addicted to War] to anyone who is interested in learning the truth about US wars."
Glenn Greenwald
"This is the most important comic book ever written … It is my hope that you read this book and pass it along to as many people as you can."
Woody Harrelson
"The enormous criminal impact of U.S. militarism on the people of the world and the people of the U.S. is hard to grasp. This book makes it easier to understand."
Ramsey Clark, former Attorney General of the United States
"As a veteran of three wars, World War II through Vietnam, with 33 years of Army service, I find this book to be the most truthful recitation of our government's policies available anywhere."
Col. James Burkholder, U.S. Army, Retired
ABOUT THE AUTHOR:
Joel Andreas began following his parents to demonstrations against the Vietnam War while in elementary school in Detroit. He has been a political activist ever since, working to promote racial equality and workers' rights inside the United States and to stop U.S. military intervention abroad. After working as an automobile assembler, a printer, and a civil engineering drafter, he completed a doctoral degree in sociology at the University of California in Los Angeles, studying the aftermath of the 1949 Chinese Revolution. He now teaches at John Hopkins University in Baltimore. Addicted to War is Joe's third illustrated exposé. He wrote and drew The Incredible Rocky, an unauthorized biography of the Rockefeller family (which sold nearly 100,000 copies) while a student at Berkeley High School in California. He also wrote another comic book, Made with Pure Rocky Mountain Scab Labor, to support a strike by Coors brewery workers.
RIGHTS INFORMATION:
Languages & Territories Where Rights Have Been Sold:
Please contact subagents for the following languages and territories:
For all other languages/territories, please contact Roam Agency.