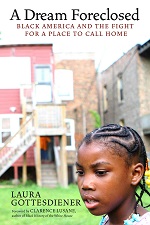 A DREAM FORECLOSED
Black America and the Fight for a Place to Call Home
By Laura Gottesdiener
Foreword by Clarence Lusane, author of The Black History of the White House
Zucccotti Park Press / Occupied Media Pamphlet Series (September 2013, world English rights)
Trade paperback • ISBN-13: 9781884519215 • 208 p. • $14.95
A DREAM FORECLOSED in also available as an E-book, ISBN: 978-1-884519-22-2
ABOUT THE BOOK:
A Dream Foreclosed: Black America and the Fight for a Place to Call Home puts a human face on the bank-caused housing crisis with its mass evictions, inherent racism, and property appropriation. And it portrays the raw verve, commitment and civic power marshaled when neighborhoods come together to defend a neighbor's home from foreclosure and repossession by banks. It is an extraordinary work of investigative reporting by a young journalist, Laura Gottesdiener, who Ralph Nader has called "the next Jeremy Scahill."
Gottesdiener profiles four neighborhoods that not only challenge the big banks that threaten their neighbors with foreclosure and eviction they actually win. Her main subjects, Bertha Garrett in Detroit, Martha Biggs in Chicago, Griggs Wimbley in North Carolina, and Michael Hutchins in Tennessee, are all preyed upon by bankers and seem to embody all the American Dream gone wrong, but by challenging the system, come to represent the far-reaching possibilities that emerge when everyday people organize together in social movements. Further, Gottesdiener weaves their stories into a larger narrative about African Americans' history of displacement and search for home, from enslavement and sharecropping to redlining and today's mass foreclosures. New York Times bestselling author Naomi Klein calls A Dream Foreclosed "A riveting book."
Gottesdiener reminds us that not a single Wall Street banker has been arrested for the countless acts of fraud and foreclosure abuse that have contributed to the more than ten million people being evicted from their foreclosed homes since 2007, with millions more foreclosures currently pending. That ten million people have been thrown out of their homes—the equivalent of the entire population of Michigan—with almost no coverage of their stories or perspectives is itself a testament to corporate influence over public policy and national debate.
PRAISE:
"The legislation to rescue the perpetrators of the current financial crisis included provisions for limited compensation to their victims. No need to tarry on which part of the bargain has been fulfilled. The bare statistics on foreclosures are shattering enough. But the enormity of the crime strikes home vividly in the heart-rending accounts of those who are brutally thrown out of their modest homes — for African Americans particularly, almost all they have — then survive in the streets, struggle on, and sometimes even regain something of what was stolen from them thanks to the courageous and inspiring work of the home liberation activists, now reinforced by the Occupy movement. All recounted with historical depth and analytic insight in this most valuable study."
Noam Chomsky
"These compelling and lucidly told stories are about people unwilling to stop imagining what it means to have a secure home. They reveal that the stakes in the fight for housing justice have never been higher: home is about the kind of democracy we want to have, and even what kind of planet we want to live on. A riveting book."
Naomi Klein, author of The Shock Doctrine
"A Dream Foreclosed is a powerful combination of riveting stories about four defrauded families and their fight back together with the broader documentation of Wall Street's corporate crimes that crashed the economy. Laura Gottesdiener, a veteran of Occupy Wall Street, has the acute eye and pen of a young progressive star with extraordinary talent. Her pages should grip you with motivational indignation."
Ralph Nader
"A Dream Foreclosed finds beauty amidst immense pain and suffering — the beauty of people continuing to fight back against rapacious banks, the politicians they buy and the lawyers they hire. It is a work both beautiful and terrible that deserves to be read by many."
Mumia Abu-Jamal, in Counterpunch
"Gottesdiener's book is a welcome, mortgage-edition proof for Faulkner's line that the past isn't dead. It's not even past. … The footnotes alone are worth the price of the book."
Columbia Journalism Review
"From the time of their capture in Africa, through Emancipation and the Great Migration, to the national economic and housing crisis of today, people of African descent in the United States have been defined by their search for home. Using the dreams and aspirations of four families as her point of departure, Laura Gottesdiener narrates a beautifully crafted story about predatory lending, foreclosure abuse, the racial politics of home ownership, and the brave struggles launched by African American communities to keep their dignities and their homes. She demonstrates that amidst the greatest housing crisis the nation has seen, the current struggle among African Americans for economic equality is forcing upon our nation a redefinition of American freedom, one that challenges us to reconsider the fundamental flaw in our national security: the market-driven character of housing. With great humanity and solidarity for those on the front lines of this epic battle, Gottesdiener offers a compelling political analysis, and a way forward in a time of national crisis. A Dream Foreclosed is a powerful, impressive and page-turning testimony that ordinary people can fight back and win."
Johanna Fernandez, author, filmmaker, organizer and professor in the Department of History at Baruch College
"A remarkable book that hits hard against the big Wall Street banks."
Russell Mokhiber, Corporate Crime Reporter
"A Dream Foreclosed is a poignant love letter to the best part of the 'American Dream,' which today lies in tatters amid the wreckage of the financial meltdown: the notion of a stable place to call home. Herein we are reminded not only of the human toll of this still-unfolding crisis, but the ways in which it stands as part of a longer drama, particularly for Black America, in which neither homeownership nor personhood itself have ever been finally secure, resting as both have on the shifting sands of political fate. A brilliant and needed narrative by an insightful and inspiring author."
Tim Wise, author of Colorblind and Dear White America: Letter to a New Minority
"Americans need the stories in this book: inspiring resistance to the serialized corporate crimes that crush not only 'dreams' but the capacity to thrive beyond subsistence."
Linn Washington, author of Black Judges on Justice: Perspectives from the Bench
ABOUT THE AUTHOR:
Laura Gottesdiener is a writer and activist living in New York City. She has published in The Huffington Post, Ms. magazine, The Arizona Republic, The New Haven Advocate and other publications. She has organized with Occupy Wall Street and other anti-foreclosure organizations, and has lived in homes, apartments, tents and in Zuccotti Park. She is currently a precarious renter and has no aspirations to own a home. A Dream Foreclosed is her first book.
RIGHTS INFORMATION:
Please contact subagents for the following languages and territories:
For all other languages/territories, please contact Roam Agency.