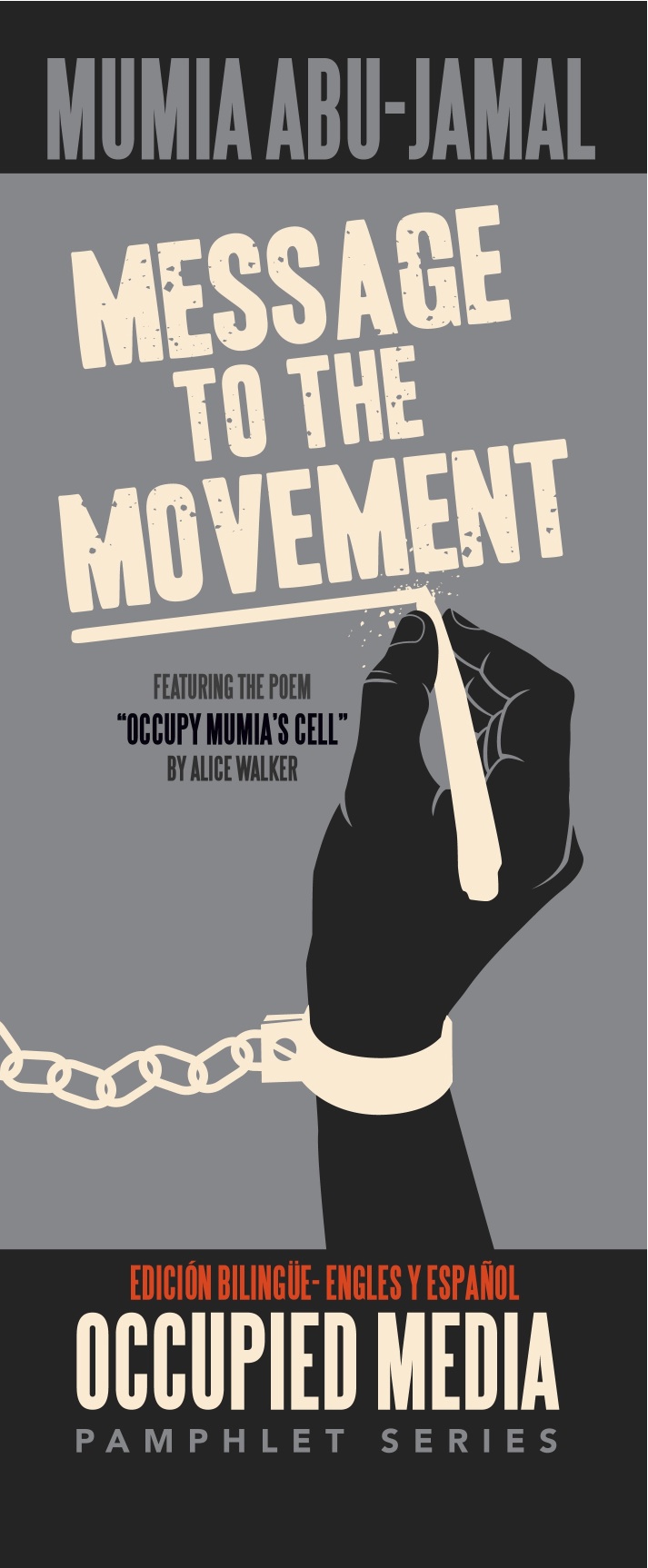 MESSAGE TO THE MOVEMENT
By Mumia Abu-Jamal
Zucccotti Park Press (2012, world English rights)
ISBN-13: 9781884519079 • US $5
ABOUT THE BOOK:
Featuring the poem "Occupy Mumia's Cell" by Alice Walker.
Listen to Mumia read from the pamphlet.
Reflecting on the meaning of struggle, education, imperialism, and his own involvement in radical social movements, revolutionary journalist and former Black Panther, Mumia Abu-Jamal, directly addresses the diverse community of organizers and activists who support and participate in the Occupy movement.
"The real deal is Occupy Everything!" says Mumia. "Where the People are, there should you be. Where power and wealth are hurting the People, there should you be organizing, resisting, fighting back, winning a better world. … Keep on rolling. Keep on moving. And while you do it, treat each other as brothers and sisters, compañeras and compañeros."
"A tour de force for those just discovering themselves within the movement and struggle, and a smack of hope for those who had thought the moment to act was over." – Daniel Olonso, Occupy Columbia University
On April 25, 2012, the day after dozens were arrested at the White House following a mobilization to Occupy the Justice Department in Washington DC, Mumia spoke with Amy Goodman and Danny Glover on Democracy Now. Among the things he said was, "As for the Occupy movement, I think it's one of the greatest advances in the democracy movement in our modern period. And it's pushed because of the economic crisis that's facing the United States and especially young people who have come out of college and have no hope for a job, have no hope for a future, have no hope for a life without terrifying, crippling loans over their heads. I think they did something wonderful, but it's a first step. They have something else to do, something more important to do, and that's to connect with other people's movements around the country build a kind of resistance that can transform this country."
ABOUT THE AUTHOR:
Mumia Abu-Jamal is author of many books, including Live From Death Row, Death Blossoms, All Things Censored, and We Want Freedom. He has been living on death row in a Pennsylvania prison since 1982.
RIGHTS INFORMATION:
Please contact subagents for the following languages and territories:
For all other languages/territories, please contact Roam Agency.