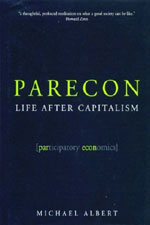 Parecon
Life After Capitalism
By Michael Albert
Verso (2004, world English rights)
Paper • ISBN-13: 9781844675050 • US $14 • 8 in x 6 in • 311 pgs.
ABOUT THE BOOK:
Parecon: Life After Capitalism answers the question so often put to activists: "What do you want?" It puts the lie to Margaret Thatcher's odious slogan TINA, "There is no alternative." Participatory economics ("parecon" for short) is an alternative set of institutions for accomplishing economic production, consumption, and allocation in accord with people's needs and abilities and in ways that promote equity, solidarity, diversity, and democratic decision-making input.
Parecon is built on certain key institutions: worker and consumer council self-management; remuneration for effort rather than output, property, or bargaining power; balanced job complexes instead of corporate divisions of labor; and participatory planning, seeking human fulfillment and development instead of markets seeking private profit.
Parecon briefly critiques existing economic options and models, including those that have gone under the label "socialist," and then presents the new alternative: first its values, then its institutions, and then graphic descriptions of how it would operate and feel. Finally, the book addresses concerns that skeptics and critics might raise.
Participatory economics was born as an economic vision almost exactly a decade ago. Its advocates have grown slowly but steadily in number, around the world, and all indications are that it is about to enter, stage left, in the international debate about the kind of economic relations we wish to create in place of the "American model" of unrestrained corporate power and neoliberalism.
PRAISE:
"…this participatory vision is what Albert successfully provides for activists and academics alike, with the hope that it will be used to inspire social projects aimed at defeating inequality  and leading to people democratically managing their own lives."
Rob Maguire, ZNet
"Parecon is a pragmatic and visionary programme that would certainly boost human freedom; we ought at least to try it out."
Red Pepper
"an imaginative, carefully reasoned description, persistently provocative, of how we might live free from economic injustice."
Howard Zinn
"It merits close attention, debate, and action."
Noam Chomsky
"Albert is ideally suited to synthesizing all the strands running through the anti-capitalist movement."
The Ecologist
"Parecon is a brave argument for . . . a much needed…more equitable, democratic, participatory…alternative economic vision."
Arundhati Roy
"A historically informed and logical economic blueprint with the practicality of a hand-tool, and a vision guided by the desire to find nobility in work."
Kirkus Reviews
"He is advocating a top to bottom economic revolution."
Library Journal
"Capitalism not working for you? Michael Albert may be tilting at windmills, but readers are flocking to his book on a system to spread the wealth and work."
Los Angeles Times
"an important contribution to the imaginative tools for everyone who wants to dismantle capitalism."
International Socialism
ABOUT THE AUTHOR:
Michael Albert, a long-time activist, speaker, and writer, is editor of ZNet and co-editor and co-founder of Z Magazine. He also co-founded South End Press and has written numerous books and articles.
RIGHTS INFORMATION:
Languages & Territories Where Rights Have Been Sold:
Please contact subagents for the following languages and territories:
For all other languages/territories, please contact Roam Agency.