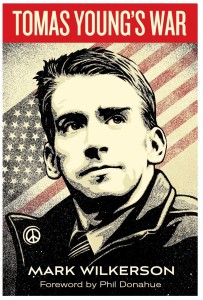 TOMAS YOUNG'S WAR
By Mark Wilkerson
Foreword by Phil Donahue
Haymarket Books (April 2016, world English rights)
Cloth • ISBN-13: 9781608465910 • US $17.95 • 225 pgs.
ABOUT THE BOOK:
Tomas Young's War is the tragic yet life affirming story of a paralyzed Iraq War veteran who spent his last ten years battling heroically with his injuries, while courageously speaking against America's wars.
Based on hours of interviews with Young and those close to him, the book puts the reader alongside Young as he struggles with life as a paralyzed veteran, suffering frustration and humiliation as he attempts to reenter society and resume as normal an existence as possible. It shows his fight to balance his precarious health with his drive to speak out for veterans care and against the war, and the impact his catastrophic injuries had on his family and his relationships.
This emotional and powerful book sheds light on many crucial but often overlooked issues such as veterans' care, public attitudes toward the disabled, medical marijuana, and the terminally ill. Tomas Young's War shares everything, as unflinchingly honest as Tomas himself: the depression, the pain, the love, and laughter…the life of this man whose world was turned upside down by an Iraqi bullet more than ten years ago. Throughout, it serves as a powerful testament to the true cost of war.
PRAISE:
"I consider myself extremely fortunate to have known Tomas Young. I'm grateful that this powerful book of Mark Wilkerson's will allow readers to experience the strength, humor and wisdom that this strong-willed and courageous man maintained til the very end. I miss him intensely."
Eddie Vedder
"Tomas Young joined the army to wage war, and emerged a champion of peace. The grievous injury he suffered in Iraq consigned him to a wheelchair, but from there he rose to incredible heights, raising the hue and cry against an illegal war and those who authored it. Mark Wilkerson's biography of Tomas Young is difficult but essential reading for anyone who wants to understand the ravages of war and the torment suffered by veterans and their loved ones. This book is a tribute to Tomas, written proof that profound humanity can survive the terrible crucible of war."
Amy Goodman, host and executive producer of Democracy Now!
"Tomas Young's is a story that every American should know. A soldier who paid a terrible price for the crimes of his superiors, Young courageously spoke out against the illegal war that eventually took his life, and attempted to hold those who initiated it accountable. Mark Wilkerson has done a great service in rendering Young's life, and the lives of those who cared for him, in their full humanity."
Glenn Greenwald, The Intercept
"Powerful, moving, inspiring. When I finished reading this book I felt it was my duty to state again that I will do whatever it takes to ensure there are no more young Americans who will have to go through what Tomas had to endure. Never again. Thank you Tomas and thank you Mark for telling his story."
Michael Moore, Academy Award-winning director
"There is nothing more courageous than a soldier who stands up against an unjust war. Tomas Young was a true American hero."
Tom Morello
"Tomas Young's war in Iraq lasted only five days, long enough to oblige Americans who sent him there to read this intimate, harrowing account of the life he lived after."
Ann Jones, author of They Were Soldiers
"An extremely poignant statement on human vulnerability and the devastation of war."
Kirkus Reviews
"Tomas Young, an army soldier paralyzed in Iraq, surmounted his injuries to become one of the most powerful and eloquent voices denouncing the war. He condemned with a righteous fury those who lied to lead us into war, including George W. Bush and Dick Cheney, and called for them to be prosecuted and tried for war crimes. He grieved for all who were injured or killed in the conflict, American and Iraqi. He spoke on their behalf. And as his health deteriorated to the point where he was unable to leave his bed he penned in his last letter one of the most scathing indictments of the Iraq war and the terrible betrayal he and his fellow veterans endured. He served as the conscience of the nation. And although his life was cut short, his is the final word on a war that should have never been fought."
Chris Hedges, author and Pulitzer Prize-winning journalist
"Tomas Young's War is a heart-warming and heartbreaking story of a courageous soldier and his family. Few books reveal the graphic details of how families deal with the catastrophic war injuries of their loved ones–Mark Wilkerson's Tomas Young's War does just that in a sympathetic and at times humorous way. I first met Tomas in 2005 when he and his wife arrived in hot Camp Casey, Texas to challenge President Bush's war on Iraq, the war that had almost killed him and had left him gravely injured. Over the next 8 years, as his body deteriorated, his mind remained clear about the Bush administration's lies that took the nation to war and he became an important voice for peace, not war!"
Ann Wright, Colonel, US Army Reserve (Ret.) and former US diplomat who resigned in 2003 in opposition to the Iraq war

"Brilliantly rendered… Amid the unpleasant realities of urinary tract infections, hollow bed sores, leaking urine bags, failed erections, a collapsing marriage and blinding loneliness, Wilkerson finds a story of love, hope and fierce loyalty… Before another Commander in Chief swaggers before the news cameras and declares 'Bring it on' I want him to read this book."
—Phil Donahue, from the foreword
"As the dogs of war were howling in early 2003 and the media was simply regurgitating their hysteria, Robert Greenwald and I organized a group of celebrities, politicians and military experts who could get attention and launched Artists United to Win Without War. We were excoriated, of course, but at least created some debate before the inevitable disaster took place. In later years I argued that Dick Cheney, George Bush, Donald Rumsfeld and their attending lapdogs should be required to walk naked down the main street of every American city, town and hamlet that lost a child, or part of one, to that horrifying misadventure and suffer the ignominy they so deeply deserved at the hands of the people they had betrayed. After reading Tomas Young's War, Mark Wilkerson's immensely powerful, pain-streaked book, I would only amend my prescription for these war criminals by adding the requirement that they be forced to read the book, aloud, while walking those streets."
Mike Farrell, author of Just Call Me Mike; A Journey to Actor and Activist
ABOUT THE AUTHORS:
Mark Wilkerson spent eight years in the U.S. Army as an AH-1 Cobra & UH-60 Black Hawk helicopter crew chief with the 3rd Infantry & 101st Airborne Divisions. He was deployed with the 101st to Mogadishu, Somalia, for six months in 1993. Mark has three children, Alex, Nick and Sam. He lives in Louisville, Kentucky with his wife Melissa. This is his third book.
Phil Donahue changed the face of daytime television, pioneering the audience-participation talk format as the host of the Donahue show, a 29-year run which stands as the longest of its kind in U.S. television history. His TV journalism earned him 20 Emmy Awards — 9 as host and 11 for the show — as well as the George Foster Peabody Award; the President's Award from the National Women's Political Caucus; the Media Person of the Year Award from the Gay and Lesbian Alliance; and induction into the Academy of Television's Hall of Fame. TV Guide named Donahue one of the Greatest Television Shows of All Time.
RIGHTS INFORMATION:
Please contact subagents for the following languages and territories:
For all other languages/territories, please contact Roam Agency.