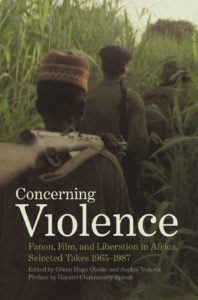 CONCERNING VIOLENCE
Fanon, Film, and Liberation in Africa, Selected Takes 1965–1987
Göran Hugo Olsson and Sophie Vukovic (editors)
Introduction by Gayatri Chakravorty Spivak
Haymarket Books (September 2016, world English rights)
Trade Paper • ISBN-13: 9781608465323 • US $19.95 • 6 1/8 in x 9 1/4 in • 150 pgs.
ABOUT THE BOOK:
An unblinking portrait of the anticolonial struggles of the 1960s, Concerning Violence combines more than one hundred and fifty arresting color and black and white photographs from Göran Hugo Olsson's award-winning documentary, with passages from Frantz Fanon's classic The Wretched of the Earth. Concerning Violence is a powerful commentary on the history of colonialism and struggles for self-determination, whose echoes remain with us today, and will introduce a new generation to Fanon, whom Angela Davis has called "this century's most compelling theorist of racism and colonialism."
PRAISE:
"By grounding colonial brutalities and the responses to those injustices in the visual, the phenomenon of colonialism attains a larger and more global significance. Olsson's interest is in decolonization—that short yet potent moment at the tail end of an anti-colonial war followed by the transfer of power when the new nation comes into being. This has often proven to be one of the most violent episodes in post-colonial history, and [Frantz] Fanon is its most articulate philosopher. . . . Olsson's investment [is] in making Fanon's theory relevant and up-to-date."
The Guardian
"Concerning Violence [is] a postcolonialist montage . . . [an] illustration of Fanon's 1961 anticolonialist broadside, The Wretched of the Earth, abridged and sharpened to its ferocious point."
New York Times
ABOUT THE AUTHORS:
Sophie Vukovic is a Stockholm-based filmmaker. Her short films have screened at Swedish and international festivals. She has also worked as an assistant director and editor.
Göran Hugo Olsson is a documentary filmmaker, cinematographer, and author. He is the director of four feature films, including The Black Power Mixtape: 1967–1975 and Concerning Violence. This is his second book.
Gayatri Chakravorty Spivak is University Professor at Columbia University and a founding member of the Institute for Comparative Literature and Society. She has been an activist in rural education and feminist and ecological social movements since 1986. She is the author of "Can the Subaltern Speak?" and A Critique of Postcolonial Reason and An Aesthetic Education in the Era of Globalization, among many other critically acclaimed works.
Joslyn Barnes is a producer of more than thirty independent feature documentary and art house fiction films. She is the co-founder, together with Danny Glover, of US-based independent production company Louverture Films. Concerning Violence is her second collaboration with filmmaker Göran Hugo Olsson.
RIGHTS INFORMATION:
Please contact subagents for the following languages and territories:
For all other languages/territories, please contact Roam Agency.