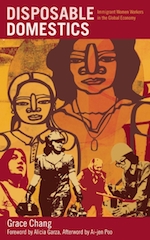 DISPOSABLE DOMESTICS
Immigrant Women Workers in the Global Economy
By Grace Chang
Foreword by Alicia Garza
Afterword by Ai-jen Poo
Haymarket Books (Fall 2015, world English rights)
Trade Paper • ISBN-13: 9781608465286 • US $17.95 • 5 1/8 in x 8 1/4 in • 235 pgs.
ABOUT THE BOOK:
Illegal. Un-American. Disposable. In a nation with an unprecedented history of immigration, the prevailing image of those who cross our borders in search of equal opportunity is that of a drain.
Grace Chang's vital account of immigrant women—who work as nannies, domestic workers, janitors, nursing aides, and home care workers—proves just the opposite: the women who perform our least desirable jobs are the most crucial to our economy and society. Disposable Domestics highlights the unrewarded work immigrant women perform as caregivers, cleaners, and servers and shows how these women are actively resisting the exploitation they face.
PRAISE:
"Since Grace Chang's Disposable Domestics was first published fifteen years ago, it has not only become a major classic in feminist studies, but has helped to make transnational analyses of reproductive labor central to our understanding of race and gender in the twenty-first century."
Angela Y. Davis, Distinguished Professor Emerita, University of California, Santa Cruz
"Grace Chang's Disposable Domestics is as timely and relevant now as it was when it was first written. As debates rage over 'immigration reform,' Chang exposes the outlandish myth that corporate interests, big agriculture, and liberal Democrats represent enlightened voices standing against mass deportation and xenophobia. Instead she reveals a long history of collusion between the U.S. government, the IMF and World Bank, corporations, and private employers to create and maintain a super-exploited, low-wage, female labor force of caregivers and cleaners. Structural adjustment policies force them to leave home; labor, welfare, and educational policies deny them basic benefits and protections; employers deny them a living wage. But as Chang also shows us, the forces of racism, misogyny, and neoliberalism have never succeeded in denying these women dignity, personhood, or power. A decade and a half later, they are still here and still fighting for the workers of the world."
Robin D. G. Kelley, Distinguished Professor of History and Gary B. Nash Endowed Chair in United States History, UCLA
"Grace Chang teaches us how to understand contemporary globalization. Refusing to segregate people, places, or processes, Disposable Domestics reorganizes our capacity to think powerfully about the world in which the struggle for social justice is too often imperiled by certain kinds of partiality. In other words, Chang's classic compels us to see the contradictory motion of workers toward the goal of gathering varieties of motion into a movement."
Ruth Wilson Gilmore, Professor, Graduate Center, CUNY and author of Golden Gulag: Prisons, Surplus, Crisis, and Opposition in Globalizing California
"America is nothing without its immigrant work force. Offices would not be cleaned, fruits would not be picked, children would not be loved. Grace Chang's classic Disposable Domestics brings alive the world of the immigrant workers and of the structures that rely upon them but that deny them dignity. But more than anything, Disposable Domestics champions the immigrants themselves — their words, their politics, their leadership. This is a book to throw at Donald Trump."
Vijay Prashad, author, The Poorer Nations: The Possible History of the Global South
"Grace Chang is a pioneer in the contemporary study of home care and domestic workers. Disposable Domestics paints a compelling and textured picture of how immigration, race, gender, law, politics and culture conspire to impoverish caregivers. But just as importantly, it portrays caregivers as the heroes of their own story, not just as the victims of someone else's. Future readers will look back on Disposable Domestics as part of the essential liberation literature of our time."
David Rolf, president of SEIU 775
"Grace Chang's nuanced analysis of our immigration policy and the devastating consequences of global capitalism captures the experiences of poor immigrant women of color. Disposable Domestics reveals how these women, servicing the economy as domestics, nannies, maids, and janitors, are vilified by politicians and the media."
Mary Romero, Professor, Justice and Social Inquiry, Arizona State University
"Disposable Domestics gives readers a 360-degree perspective on both the lives of immigrant women laborers and the macro and global forces that shape them. When first published over fifteen years ago, the book was eye-opening. Today, readers will see how Grace Chang's work foretold the future about the indispensable role of women from the global South in the grinding machination of economic globalization; the evidence of their collective indispensability and individual "disposability" is now all around and much more visible. The power and durability of Disposable Domestics is due in large measure to Chang's activist-scholar orientation and sensibilities, which generated descriptions that humanize the women and analysis that explains how they are dehumanized and exploited, and shows who benefits and how."
Margo Okazawa-Rey, Professor Emerita, San Francisco State University
ABOUT THE CONTRIBUTORS:
Grace Chang is a writer and activist, joining in struggles for the rights of migrant women and women of color in the United States. She teaches about social science research methods and ethics; women resisting and surviving violence in all forms; and grassroots, transnational, feminist social justice movements. She is founding director of WORD (Women Of color Revolutionary Dialogues), a support group for women and queer and trans people of color building community through spoken word, political theater, music, dance, and film.
Alicia Garza is a writer and Oakland-based activist. Garza is one of the co-founders of Black Lives Matter, an organization founded in 2013 after the shooting death of Florida teen Trayvon Martin.
Ar-jen Poo is an American activist. She is the director of the National Domestic Workers Alliance. She is also the co-director of Caring Across Generations, a national coalition of 200 advocacy organizations working to transform the long-term care system in the US, with a focus on the needs of aging Americans, people with disabilities, and their caregivers.
RIGHTS INFORMATION:
Please contact subagents for the following languages and territories:
For all other languages/territories, please contact Roam Agency.