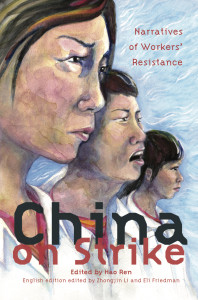 CHINA ON STRIKE
Narratives of Workers' Resistance
Hao Ren, Zhongjin Li and Eli Friedman (editors)
Haymarket Books (March, 2016, world English rights)
Trade Paper • ISBN-13: 9781608465224 • US $19.95 • 5 1/4 in x 8 1/4 in • 300 pgs.
ABOUT THE BOOK:
China has been the fastest-growing major economy in the world for three decades. It is also home to some of the largest, most incendiary, and most underreported labor struggles of our time.
China on Strike, the first English-language book of its kind, provides an intimate and revealing window into the lives of workers organizing in some of China's most profitable factories, which supply Apple, Nike, Hewlett Packard, and other multinational companies. Drawing on dozens of interviews with Chinese workers, this book documents the processes of migration, changing employment relations, worker culture, and other issues related to China's explosive growth.
PRAISE
"As these vivid case-studies illustrate, the real sleeping dragon—China's enormous factory proletariat—is wide awake and fighting back on all fronts. Indeed, here is first-hand evidence that Chairman Xi Jinping may soon confront the largest labor rebellion in history."
Mike Davis, Professor Emeritus, University of California, Riverside, and author of Planet of Slums
"China on Strike is a much-needed, detailed account of labour struggle in the Pearl River Delta region, China's manufacturing industrial heartland. It is a story brilliantly told from migrant workers' own perspectives, about all that keeps this factory of the world moving."
Hsiao-Hung Pai, author of Scattered Sand: The Story of China's Rural Migrants
"China's rise as a global economic power has been paralleled by a growing militancy among its working class. In this unfolding process, workers are gaining the confidence, experience, and tenacity to strike and to win. Censorship and political repression by the country's ruling party makes first-hand accounts of these struggles–especially in English–extremely rare. China on Strike fills that gap through eye-opening and compelling narratives of China's new generation of worker-militants and strike leaders. It's a must-read."
Paul Mason, economics editor for Channel 4 News, author of Postcapitalism, and Live Working or Die Fighting
"This book breathes authenticity. China on Strike is a collection of oral histories created by a network of workers, students, students become workers, and intellectuals practicing in related fields, whose underlying concern is to make known what is really happening on the ground in China. The scenes they describe very much resembles the rank-and-file self-organization of workers in the United States in the early 1930s. Let us hope that as our Chinese comrades become more organized and powerful they are able to retain the wonderful vitality of the early actions described in this remarkable book."
Staughton Lynd, labor historian and editor (with Alice Lynd) of Rank and File: Personal Histories by Working-Class Organizers
"This book provides an exhaustive and vivid account on migrant workers' strikes in China. Many authors of this book are young, well-educated and passionate labor activists. Through the eyes and hearts of these organic intellectuals, readers can feel how a new working class is creating itself in struggles. It will inspire imagination about the future of China, globalization and labor movement."
Chris King-Chi Chan, City University of Hong Kong
"China is not only the elephant in the room of global capitalism, but the site of one of the world's greatest on-going labor upheavals. China's working class in formation has mounted mass strikes against all odds—a one-party dictatorship, 'unions' controlled by the Communist Party, waves of internal migration, and, of course, global capital itself. Yet, China's mostly young workers rebel in growing numbers forcing concessions from the bureaucratic state as well as from giant corporations. China on Strike provides a unique view of the developing consciousness and actions of these daring workers as the strike movement of recent years took shape. This is a book that should be read by all those who care about the future possibilities of working class power everywhere."
Kim Moody, author of In Solidarity: Essays in Working Class Organization in the United States
"China has become not only the 'workshop' of the capitalist world but also the epicenter of the global class struggle. The workers in China are making history. This is the time to read China on Strike, a book about ordinary workers and worker-activists and how they fight for a better world tomorrow."
Minqi Li, Associate Professor of Economics, University of Utah
"Workers throughout the world are fighting wage cuts, bad working conditions, and runaway shops. Without rights or protections taken for granted elsewhere, Chinese workers have struck thousands of times over these and other issues. China On Strike gives voice to factory struggles rarely reported in the U.S. and confirms the central role played by a new generation of rank-and-file leaders. Their inspiring exercise of shop floor power is worthy of close study by labor activists here."
Steve Early, former CWA organizer and author of Save Our Unions: Dispatches From a Movement in Distress
"China on Strike provides the most detailed and vivid accounts of migrant workers' struggles in the Pearl River Delta, the powerhouse of China's reform and industrialization. The struggles of these workers shed light on the future of labor movement not only in China, but worldwide. A must-read book for readers concerned with labor activism and international solidarity!"
Pun Ngai, Hong Kong Polytechnic University, author of Made in China and Migrant Labor in China
"Over the past two decades China has emerged as an industrial powerhouse, and the country's explosive growth has been a defining feature of the global economy. Now China's workers are taking center stage. China on Strike paints a vivid, first-hand picture of working conditions in the heart of China's 'manufacturing miracle,' the impetus for tens of thousands of job actions and labor disputes each year. The stories featured in China on Strike put to rest the notion that today's factory workers are helpless victims. On the contrary, they demonstrate that it's still possible to fight back at work and win, even against the world's most powerful corporations and an unbending, one-party state. The book is testament to the enduring power of solidarity, and the creativity that bubbles up when workers stand up and fight back."
Mark Brenner, Labor Notes
"A remarkable book that introduces us to the Chinese worker…what is most impressive about this book is that it is not only a remarkably informative book about Chinese capital and labor, but it is also a kind of organizing manual that might be profitably read—as it was designed to be—not only by workers in China but by workers almost anywhere in the world, including here in the United States."
New Politics
ABOUT THE EDITORS:
Hao Ren became interested in Chinese labor rights while she was in university, and after graduating went to work for a labor NGO in the Pearl River Delta. After leaving the organization in 2010, she supported herself by taking a variety of jobs in factories throughout coastal China, where she conducted interviews for China on Strike.
Zhongjin Li is a Ph.D candidate in the Department of Economics at University of Massachusetts Amherst. She received her bachelor's degree in International Relations from Renmin University of China and a Master's degree in Economics from University of Massachusetts Amherst. Her main research focus is political economy of development, economic crises, and labor politics in Asia.
Eli Friedman is Assistant Professor of International and Comparative Labor at Cornell University. His primary areas of interest are China, development, globalization, social movements, theory, urbanization, and work and labor. He is the author of Insurgency Trap: Labor Politics in Postsocialist China, published by Cornell University Press (2014). His peer reviewed articles have appeared in ILR Review, Theory and Society, British Journal of Industrial Relations, and Mobilization, among others. He is also a regular contributor to Jacobin.
RIGHTS INFORMATION:
Languages & Territories Where Rights Have Been Sold:
Please contact subagents for the following languages and territories:
For all other languages/territories, please contact Roam Agency.