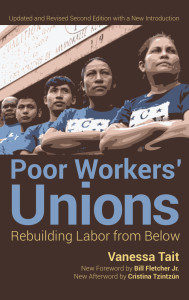 POOR WORKERS' UNIONS
Rebuilding Labor from Below
Vanessa Tait
Foreword by Cristina Tzintzún
Afterword by Bill Fletcher, Jr.
Haymarket Books (April 2016, world English rights)
Trade Paper • ISBN-13: 9781608465200 • US $19 • 5 1/4 in x 8 1/2 in • 300 pgs.
ABOUT THE BOOK:
A classic account of low-wage workers' organizing that the US Department of Labor calls one of the "100 books that has shaped work in America."
As low-wage organizing campaigns have been reignited by the Fight for 15 movement and other workplace struggles, Poor Workers' Unions is as prescient as ever.
PRAISE:
"This is a wonderfully sunny history of recent efforts to bring the social justice commitments and tactical innovations of community organizing to the labor movement, and especially to the ranks of low wage workers."
Frances Fox Piven, co-author of Poor People's Movements
"This updated and revised edition of Poor Workers' Unions provides entry into a multi-racial and multi-ethnic multitude of struggles inside and outside the union movement. It remains essential reading for students, scholars, and people who want to make their own history by organizing."
Michael Honey, author of Going Down Jericho Road: The Memphis Strike, Martin Luther King's Last Campaign
"Poor Workers' Unions is a much-needed reinterpretation of the labor movement since the 1960s. Vanessa Tait offers an expansive notion of both the meaning of labor and labor organizing—those who worked in traditional and nontraditional venues, for pay or not, nearly all of whom understood class as intimately bound up with race, gender and ethnicity. This book offers hope and a vision for building a broad-based workers' movement. It is essential reading for anyone who cares about social justice or the future of the labor movement."
Premilla Nadasen, author of Household Workers Unite: The Untold Story of African American Women Who Built a Movement
"As working people seek to envision a new labor movement, they will find invaluable inspiration in the hidden history of social justice unionism revealed in Vanessa Tait's Poor Workers' Unions."
Jeremy Brecher, author of Strike! and Climate Insurgency: A Strategy for Survival
"This updated edition of Poor Workers' Unions more than provides a useable past for today's 'Alt-labor' taxi drivers, domestic workers, freelancers, fast food servers, retail clerks, and day laborers. Vanessa Tait shows that another labor movement is possible, one rooted in racial, gender, immigrant, and economic justice, that bridges community and workplace. In offering strategic lessons and inspiring stories, she envisions a brighter future for the people made by the people for all."
Eileen Boris, co-author of Caring for America: Home Health Workers in the Shadow of the Welfare State
"Vanessa Tait's Poor Workers' Unions, upon its original publication a classic of incisive history and lucid interpretation, now reappears at a crucial moment, as the demographic transformation of the working class accelerates. The threat of worsening conditions stands alongside the urgency and the possibility of new organizing. Tait's thorough revisions, Fletcher's foreword, and Tzintzun's afterword add vital updates and reminders. Buy this book and give it to your friends."
Paul Buhle, labor historian and editor of a dozen radical comic books
"With gripping tales of grassroots experiments in social justice unionism from the 1960s to the present, Vanessa Tait cracks wide open our concept of what a labor movement looks like, and shows how it can be part and parcel of movements for racial and gender justice. In the process, she does a stunning job of helping us imagine workers' movements that are creative, democratic, and, above all, build power from below—pointing the way to a vibrant future for labor."
Dana Frank, UC Santa Cruz
"Poor Workers' Unions makes a critical contribution to the current debate about how unions can survive, in open shop conditions, as voluntary membership organizations. Vanessa Tait emphasizes the importance of building workplace power through grassroots organization and rank-and-file control. This book reminds us that greater 'participatory democracy'—a concept that animated progressive activism in the 1960s—should be the goal of labor and community organizing today."
Steve Early, former organizer for the Communications Workers of America and author of Save Our Unions
"While the AFL-CIO and its affiliated unions desperately try to figure out how to rebuild and energize the labor movement, Vanessa Tait reveals in this exceptional book that poor workers have been showing the way for the past forty years. Tait examines and analyzes in meticulous detail a wide range of movements organized by poor workers to improve their circumstances and build a more just society. She demonstrates that these movements were founded and developed upon principles of rank-and-file control, democracy, community involvement, and solidarity and aimed to improve all aspects of workers' lives. These are precisely the principles and aims upon which a new labor movement must be based but which the official labor movement has been slow to embrace. Both labor activists and labor historians will learn much from this book."
Michael Yates, author of The Great Inequality and Why Unions Matter
"As existing unions continue to bottom out and search fitfully for an answer to declining power and influence, Vanessa Tait's Poor Workers' Unions reveals the significance of successful labor organizational forms that demand our attention and understanding. Tait demonstrates that organizations with deep roots in communities are essential in paving the way for a more robust union movement in the United States. Bill Fletcher Jr. provides a compelling new foreword assessing challenges ahead as the US working class and trade unions seek to build a counterforce to the rapacious capitalist system. Poor Workers' Unions is essential reading for organizers and students of the American labor movement."
Immanuel Ness, author of Southern Insurgency: The Coming of the Global Working Class and professor at City University of New York
ABOUT THE CONTRIBUTORS:
Journalist and labor activist Vanessa Tait received her PhD in sociology from the University of California, Santa Cruz. Her writings have appeared in New Labor Forum, Critical Sociology, the Boston Phoenix, and the Guardian. Her radio work appears regularly on KPFA/Pacifica.
Bill Fletcher Jr. has been an activist since his teen years. Upon graduating from college he went to work as a welder in a shipyard, thereby entering the labor movement. Over the years he has been active in workplace and community struggles as well as electoral campaigns. He has worked for several labor unions in addition to serving as a senior staffperson in the national AFL-CIO. Fletcher is the co-author (with Peter Agard) of The Indispensable Ally: Black Workers and the Formation of the Congress of Industrial Organizations, 1934-1941; the co-author (with Dr. Fernando Gapasin) of Solidarity Divided: The Crisis in Organized Labor and a New Path Toward Social Justice; and the author of 'They're Bankrupting Us' – And Twenty Other Myths About Unions. Fletcher is a syndicated columnist and a regular media commentator on television, radio and the Web.
Cristina Tzintzún is the executive director of Workers Defense Project (WDP), a statewide, membership-based workers' rights organization that is winning better working conditions for Texans. At WDP, Tzintzún has spearheaded efforts to ensure safe and dignified jobs for the nearly 900,000 construction workers that labor in the state. She also coedited Presente!: Latin@ Immigrant Voices in the Struggle for Racial Justice / Voces Inmigrantes Latin@s en la Lucha por la Justicia Racial.
RIGHTS INFORMATION:
Please contact subagents for the following languages and territories:
For all other languages/territories, please contact Roam Agency.