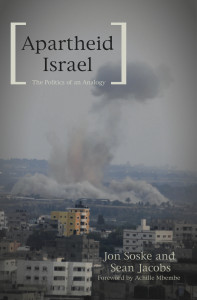 APARTHEID ISRAEL
The Politics of an Analogy
Edited by Sean Jacobs and Jon Soske
Foreword by Achille Mbembe
Haymarket Books (2015, world English rights)
Trade Paper • ISBN-13: 9781608465187 • US $16 • 5 1/4 in x 7 1/2 in • 150 pages
ABOUT THE BOOK:
In Apartheid Israel: The Politics of an Analogy, twenty scholars of Africa and its diaspora reflect on the similarities and differences between apartheid-era South Africa and contemporary Israel, with an eye to strengthening and broadening today's movement for justice in Palestine.
Contributors include Ran Greenstein, Salim Vally, Arianna Lissoni, Andy Clarno, Bill Freund, T.J. Callie, Teresa Barnes, Marissa J. Moorman, Shireen Hassim, Kelly Gillespie, M. Neelika Jayawardane, Robin D.G. Kelley, Suren Pillay, Mahmood Mamdani, Heidi Grunebaum, and Melissa Levin.
PRAISE:
"The occupation of Palestine is the biggest moral scandal of our times, one of the most dehumanizing ordeals of the century we have just entered, and the biggest act of cowardice of the last half-century. And since all they are willing to offer is a fight to the finish, since what they are willing to do is to go all the way—carnage, destruction, incremental extermination—the time has come for global isolation."
Achille Mbembe, from the foreword
"A South African who is not white does not need more than one day's stay in Palestine to be thrown back to pre-1994 and realize that apartheid is very much alive under Israel as a colonial power. While governments continue to certify Israel's blatant disregard for Palestinian life and international law, activism by ordinary citizens around the world in solidarity with the Palestinians is intensifying. Global, mass protests against Israel's military attacks and the growth of support for the Boycott, Divestment and Sanctions campaign are promising steps in the right direction. The essays inApartheid Israel: The Politics of an Analogy powerfully remind those of us who brought down the apartheid regime in South Africa that we must join with our Palestinian brothers and sisters in their fight to bring down the apartheid regime in Israel."
Ahmed Kathrada, Veteran antiapartheid activist and former political prisoner
"Offering more thoughtful questions than easy answers, this collection of essays aims to redefine our approach to the Israeli system of militarized racial discrimination and its relationship to South African apartheid. One of the recurring and most valuable issues probed by the collection is what the South African experience might tell us not only about the present situation in Palestine, but also about various possible paths towards a just peace."
Saree Makdisi, author of Palestine Inside Out: An Everyday Occupation
"The shadow of the anti-apartheid movement hangs over the BDS movement. This edited collection gives body to that shadow, making plain the useful lessons of a successful struggle to the aggravating occupation of the Palestinians."
Vijay Prashad, editor of Letters to Palestine
ABOUT THE EDITORS:
Sean Jacobs is an assistant professor of international affairs at The New School in New York City and the founder of Africa is a Country. He is a native of South Africa. His work focuses on the relationship between popular culture, including sports, and politics.
Jon Soske is an assistant professor of modern African history at McGill University and the co-editor of One Hundred Years of the ANC: Debating Liberation Histories Today.
Achille Mbembe is a research professor in history and politics at the University of the Witwatersrand, in Johannesburg, South Africa. He is also co-convenor of the Johannesburg Workshop in Theory and Criticism (JWTC) and a visiting professor at Duke University's Department of Romance Studies.
RIGHTS INFORMATION:
Languages & Territories Where Rights Have Been Sold:
Please contact subagents for the following languages and territories:
For all other languages/territories, please contact Roam Agency.