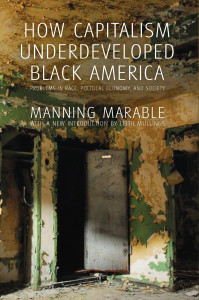 HOW CAPITALISM UNDERDEVELOPED BLACK AMERICA
Problems in Race, Political Economy, and Society
Manning Marable
With a new foreword by Leith Mullings
Haymarket Books (Fall 2015, world English rights)
Trade Paper • ISBN-13: 9781608465118 • US $19.95 • 5 1/4 in x 8 1/2 in • 372 pgs.
ABOUT THE BOOK:
Marable offers profound insight into the deeply intertwined problems of race and class in the United States historically and today.
How Capitalism Underdeveloped Black America dispenses impeccably comprehensive research to expose the realities of African American poverty, health, employment, and education, as well as other demographics. Marable's conclusions prove an undeniable connection between the oppression and exploitation of Black America and capitalism.
PRAISE:
"How Capitalism Underdeveloped Black America is one of those paradigm-shifting, life-changing texts that has not lost its currency or relevance — even after three decades. Its provocative treatise on the ravages of late capitalism, state violence, incarceration, and patriarchy on the life chances and struggles of black working-class men and women shaped an entire generation, directing our energies to the terrain of the prison-industrial complex, anti-racist work, labor organizing, alternatives to racial capitalism, and challenging patriarchy—personally and politically. When I first picked up the book and scanned the Preface, Manning Marable's profound words stopped me in my tracks: 'The intellectual who makes a public commitment to transform society, to smash white racism and the inherently exploitative system laughingly described as "free enterprise" by its defenders, cannot plead his/her case in muted grey tones. For the Black masses to "return to their own history," we must begin by rewriting that history — but not in the language, style or outlook of the system.'"
Robin D. G. Kelley, author of Freedom Dreams: The Black Radical Imagination
"Manning Marable was a dear friend and one of my generation's most gifted and profound historians, whose brilliance, rigor, and abiding commitment to truths that spoke to power are sorely missed in today's 'conversation on race.' Now, in this new edition of his classic text, How Capitalism Underdeveloped Black America, replete with probity and learning, Marable can challenge a new generation to find solutions to the problems that constrain the present but not our potential to seek and define a better future."
Henry Louis Gates, Jr., Alphonse Fletcher University Professor, Harvard University
"Manning Marable never stopped wrestling with this landmark volume, and neither should we. Ranging widely across time, spheres, and data, this work, at once polemical and analytical, continues to offer an account of inequality at the intersection of class, gender, and race that has yet to be matched. Some three decades on, How Capitalism Underdeveloped Black America remains a book that provokes, informs, and motivates."
Ira Katznelson, Ruggles Professor of Political Science and History, Columbia University
"The reissue of Manning Marable's How Capitalism Underdeveloped Black America confirms that this is a classic work of political history and social criticism. Unfortunately, Marable's blistering insights into racial injustice and economic inequality remain depressingly relevant. But the good news is that Marable's prescient analysis – and his eloquent and self-critical preface to this new edition – will prove critical in helping us to think through and conquer the oppressive forces that remain."
Michael Eric Dyson, author of I May Not Get Therewith You: The True Martin Luther King, Jr.
"A cohesive portrait of black America."
Cornel West
PRAISE FOR THE AUTHOR:
"Manning was an unflinching and breathtakingly prolific scholar whose commitments to racial, economic, gender, and international justice were unparalleled. … There are two generations of African-American scholars who will remember him as much for the mentor he was to us as for the research legacy he leaves. … When I think of Manning himself it is as a great well — possessing reserves of energy, intellect and commitment I have never before witnessed."
Melissa Harris-Perry, MSNBC
"A groundbreaking historian … one of America's truest public intellectuals."
John Nichols, The Nation
ABOUT THE CONTRIBUTORS:
Manning Marable (1950-2011) was a professor of public affairs, history and African-American Studies at Columbia University. Marable authored fifteen books including Malcolm X: A Life of Reinvention, for which he won the Pulitzer Prize for History.
Leith Mullings (1945-2020) was a distinguished professor of anthropology at the Graduate Center CUNY. She was an anthropologist, author, lecturer and educator. She served as president of the American Anthropological Association from 2011 to 2013. Much of her work focuses on the analysis of inequality and she was involved in research projects in Africa, the United States and Latin America. Through the lens of feminist and critical race theory, she analyzed a variety of topics including kinship, representation, gentrification, health disparities and social movements. Mullings had a strong commitment to producing scholarship that addresses timely social issues, undertaken in collaboration with research subjects and sought to empower communities through knowledge. Her web site is: http://leithmullings.com.
RIGHTS INFORMATION:
Please contact subagents for the following languages and territories:
For all other languages/territories, please contact Roam Agency.