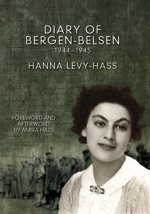 DIARY OF BERGEN-BELSEN
By Hanna Lévy-Hass
With a new foreword and afterword by Amira Hass
Haymarket Books (Spring 2015, world English rights)
Trade paper • ISBN-13: 9781608464609 • US $15.95 • 5 5/8 x 7 7/8 in • 166 pgs.
ABOUT THE BOOK:
Hanna Lévy-Hass, a Yugoslavian Jew, emerged a defiant survivor of the Holocaust. Her observations, recorded in her own incomparable voice, shed new light on the lived experience of Nazi internment. Lévy-Hass stands alone as the only resistance fighter to report on her own experience inside the camps, and she does so with unflinching clarity in dealing with the political and social divisions inside Bergen-Belsen.
ABOUT THE AUTHOR:
Born in Sarajevo in 1913, Hanna Lévy-Hass became involved in the clandestine Communist movement while studying in Belgrade in the 1930s. There, she was instilled with a passion for freedom and equality, which would guide her work and her perspective throughout the rest of her life. She was taken from Montenegro by the Nazis to the Bergen-Belsen concentration camp in 1944. Her diary has been published in many languages.
Amira Hass, the daughter of Hanna Lévy-Hass, is an Israeli journalist who is best known for her columns in Ha'aretz. She is the only Israeli journalist living and writing from with Occupied Territories. She is also the author of Drinking the Sea at Gaza and the recipient of many awards for her writing. Here she offers a substantial introduction to her mother's work that addresses the meaning of the Holocaust for Israelis and Palestinians today.
PRAISE:
"A compelling document of historic importance which shows, with remarkable composure, that ethical thought about what it means to be human can be sustained in the most inhuman conditions. Hanna Lévy-Hass teaches us how a politics of compassion and justice can rise out of the camps as the strongest answer to the horrors of the twentieth century."
Jacqueline Rose, Queen Mary University of London; author, The Question of Zion
"Diary of Bergen-Belsen is a poignant testimonial whose direct and clear-eyed observations on life in Hell belong in the select company of Primo Levi and Margarete Buber-Neumann, whose recently translated Under Two Dictators is the only comparable account in English of the female experience at Bergen-Belsen. Hannah Lévy-Hass was clearly a quite extraordinary woman — brave, honest, and undiminished in her idealism and hopes: qualities that also characterize her daughter Amira, a fearless Israeli journalist who introduces the Diary with a moving account of her mother's life and death."
Tony Judt, University Professor and Director of The Remarque Institute, New York University; historian and author of, Postwar: A History of Europe Since 1945
"Diary of Bergen-Belsen vividly captures the tempestuous spirits of one of the darkest places on earth during one of the darkest times in history. Hanna Lévy-Hass writes with captivation of unthinkable brutality. Her careful writings have created an unforgettable and indispensable chronicle that will live on for generations. She will help us remember, and to never forget."
Edwin Black, author, IBM and the Holocaust
"Hanna Lévy-Hass's Diary of Bergen-Belsen is a document of extraordinary authority, gripping and moving in equal measure. There are other diaries from the Nazi camps and ghettos, all of which require us to confront the writer's experience in its merciless immediacy. But no other diary carries quite the same lessons of moral courage and political urgency as Lévy-Hass's does, with her repeated attempts to salvage some form of solidarity out of the abyss of depravity and selfish individualism that engulfed Belsen's inmates. This new edition includes a powerful foreword and afterword by Lévy-Hass' daughter, Amira, who, without sentimentality or false analogy, links the struggles of her own present with those of her mother's past."
Jane Caplan, Professor of Modern European History, University of Oxford
"There are many testimonies of the Nazi concentration and extermination camps, but very few have the quality and the strength of this diary from Bergen-Belsen by Hanna Lévy-Hass. A Jew and a member of the Resistance, Lévy-Hass belongs to the group of detainees that — as Primo Levi emphasized in The Drowned and the Saved — had the resources to preserve their humanity against the planned annihilation by the Nazi machine. You will find no resignation in these pages written at Bergen-Belsen in 1944-45 and describing the Nazi hell to which Hanna was able to escape by miracle. One regrets that, after this poignant text, Lévy-Hass did not write anything else, especially a full autobiography. But Hanna was and remained a fighter all her life. This volume features also and introduction and a long afterword by Lévy-Hass' daughter, Amira. Amira Hass is internationally appreciated for her writings against the Israeli oppression of Palestine. Here she sketches a beautiful portrait of the exceptional woman that was her mother: cosmopolitan, cultivated, and politically involved. Lévy-Hass was first in the Yugoslavian Resistance, then in the Israeli communist movement, and finally she became a feminist activist. The history of the Holocaust is often reduced to a simple conflict between the persecutors and their victims, but it was a much more complex process. It was also the history of the struggle against the barbarism of twentieth century: and that is the reason why this diary is so important to us."
Enzo Traverso, author, The Origins of Nazi Violence
"Bergen-Belsen represents the final stage of the Holocaust. At the end of the war, forced laborers too weak to work, Jews from neutral countries, and survivors of death marches from Auschwitz and other camps were dumped together under impossible conditions. After the gas chambers in the death camps were closed down, mass murder continued at Bergen-Belsen through other means. In March 1945, the final month before liberation, nearly 20,000 prisoners died there. Lévy-Hass described this form of genocide in her diary: 'the slow, vile, calculated destruction by hunger, violence, terror, and deliberately sustained epidemics.' Her rare description of the final months of the Holocaust is marked by political consciousness, moral understanding, and perceptive observation. Lévy-Hass has much to tell us of death and survival."
Steve Hochstadt, Illinois College, author, Sources of the Holocaust
"This remarkable diary was composed by Hanna Lévy-Hass amidst the desolation of the universe of the Nazi concentration camps, eloquent testimony to the ethics of socialism that hardwired its author's humanist resilience. Newly framed by her daughter's moving memoirs of her parents, Diary of Bergen-Belsen documents both the passing of a generation and the continuities it leaves behind."
Geoff Eley, Karl Pohrt Distinguished University Professor of Contemporary History, Professor of History and German Studies, University of Michigan; author, Forging Democracy: The History of the Left in Europe, 1850-2000
RIGHTS INFORMATION:
Languages & Territories Where Rights Have Been Sold:
Please contact subagents for the following languages and territories:
For all other languages/territories, please contact Roam Agency.