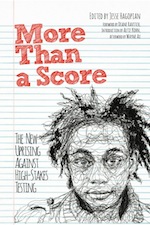 MORE THAN A SCORE
The New Uprising Against High-Stakes Testing
Jesse Hagopian
Haymarket Books (September 2014, world English rights)
Trade Paper • ISBN-13: 9781608463923 • US $16 • 8 1/8 in x 5 1/8 in • 180 pgs.
ABOUT THE BOOK:
For too long so-called education reformers, mostly billionaires, politicians, and others with little or no background in teaching, have gotten away with using standardized testing to punish our nation's youth and educators.
Now, across the country, students are walking out, parents are opting their children out, and teachers are refusing to administer these detrimental exams. In fact, the "reformers" today find themselves facing the largest revolt in US history against high-stakes, standardized testing.
More Than a Score is a collection of essays, poems, speeches, and interviews — accounts of personal courage and trenchant insights — from frontline fighters who are defying the corporate education reformers, often at great personal and professional risk, and fueling a national movement to reclaim and transform public education.
Along with the voices of students, parents, teachers, administrators, and grassroots education activists, the book features renowned education researchers and advocates, including Diane Ravitch, Alfie Kohn, Wayne Au, Nancy Carlsson-Paige, Karen Lewis, Carol Burris, and Mark Naison.
Watch Book Trailer:
PRAISE:
"This collection is a must-read for everyone who is concerned about the future of America's public education system."
Foreword Reviews
ABOUT THE AUTHOR:
Jesse Hagopian, teaches history and is the Black Student Union adviser at Garfield High School, the site of the historic boycott of the MAP test in 2013. He is an associate editor of Rethinking Schools, a founding member of Social Equality Educators, and winner of the 2013 "Secondary School Teacher of Year" award from the Academy of Education Arts and Sciences. He is a contributing author to Education and Capitalism: Struggles for Learning and Liberation and 101 Changemakers: Rebels and Radicals Who Changed US History, and writes regularly for Truthout, Common Dreams, Socialist Worker, Black Agenda Report, and the Seattle Times Op-Ed page.
RIGHTS INFORMATION:
Please contact subagents for the following languages and territories:
For all other languages/territories, please contact Roam Agency.