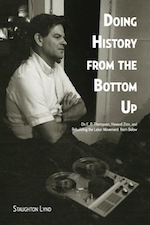 DOING HISTORY FROM THE BOTTOM UP
On E.P. Thompson, Howard Zinn, and Rebuilding the Labor Movement from Below
Staughton Lynd
Foreword by Edward F. Countryman
Haymarket Books (December 2014, world English rights)
Trade Paper • ISBN-13: 9781608463886 • US $17 • 5 1/2 in x 8 3/4 in • 170 pgs.
ABOUT THE BOOK:
In Doing History from the Bottom Up, Staughton Lynd laments the passing of David Montgomery, E.P. Thompson, Alfred Young, and Howard Zinn. He challenges academics to see history through the eyes of Native Americans, slaves, and rank-and-file workers. Lynd offers an account of the decline of trade unionism based on the narratives of workers and on his efforts as a lawyer to assist them.
ABOUT THE AUTHOR:
Staughton Lynd is an American conscientious objector, Quaker, peace activist and civil rights activist, tax resister, historian, professor, author and lawyer.
Edward F. Countryman is University Distinguished Professor in the William P. Clements Department of History at Southern Methodist University. He its he author of Enjoy the Same Liberty: Black Americans and the Revolutionary Era, The American Revolution, and A People in Revolution: The American Revolution and Political Society in New York, 1760-1790, among other works.
RIGHTS INFORMATION:
Please contact subagents for the following languages and territories:
| Language/Territory | Subagent |
| --- | --- |
| China, Taiwan, Indonesia, Malaysia, and Vietnam | Big Apple Agency |
| English outside North America | David Grossman Literary Agency |
| German | Paul & Peter Fritz AG Literatur Agentur |
| Greek | Read n' Right Agency |
| Hebrew | The Deborah Harris Agency |
| Italian | The Nabu International Literary Agency |
| Japanese | The English Agency (Japan) Ltd |
| Korean | BC Agency, or Korea Copyright Center |
| Portuguese | RIFF Agency |
| Russia/Baltics/Eastern Europe | Prava I Prevodi |
| Scandinavia: Sweden, Norway, Finland, Denmark, Iceland | Brandt New Agency |
| Spanish in Latin America | International Editors' Co., S.A. |
| Spanish in Spain | International Editors' Co., S.A. |
| Turkish | Anatolialit Agency |
For all other languages/territories, please contact Roam Agency.