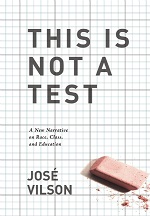 THIS IS NOT A TEST
A New Narrative on Race, Class, and Education
José Luis Vilson
Haymarket Books (May 2014, world English rights)
Paperback • ISBN-13: 9781608463701 • 150 pgs.
ABOUT THE BOOK:
José Luis Vilson writes about race, class, and education through stories from the classroom and researched essays. His rise from rookie math teacher to prominent teacher leader takes a twist when he takes on education reform through his now-blocked eponymous blog, TheJoseVilson.com. He calls for the reclaiming of the education profession while seeking social justice.
PRAISE:
"José Luis Vilson has written a spellbinding book that explains the joys and burdens of teaching. The joys are the kids, with all their heartaches and dreams. The burdens are the politicians and careerists who snuff out the spirits of children and teachers. Read this book!"
Diane Ravitch, author, Reign of Error: The Hoax of the Privatization Movement and the Danger to America's Public Schools
"José Vilson writes from a place of authority about the intersection of race, class and America's education system. His straight talk about the absurdity of America's test obsession, its failure to meet or even acknowledge the needs of an increasingly diverse student population, and a reform movement that has reformed nothing, failed at much, and distracted from students' very real needs is a telling portal on what's really going on in American education today. Those who can relate to Vilson's experiences as a student or a teacher will welcome his unvarnished honesty and reflections. And those for whom this is terra incognita will find an insightful and illuminating window on the educational experiences of America's emerging majority — students of many hues and languages, whose families struggle every day, for whom education may be the only way up, yet who too often are failed by systems ill-equipped to foster their success. Vilson's visceral accounts remind us of the humanity of teachers — their struggles and triumphs, their frustration with forces outside their classroom walls and, above all, their devotion to their students. By telling his own story and those of his students, Vilson shows why 'teacher voice' is essential to shedding the failures of the past and to reclaiming the promise of public education."
Randi Weingarten, president, American Federation of Teachers
"Drawing from his own insight as a teacher, José Vilson hits right between the eyes, exposing how hardscrabble poverty and the pernicious effect of racism distort young lives. In This Is Not a Test: A New Narrative on Race, Class, and Education, Vilson argues for more teachers of color, more time for teachers to support each other, and more ways for teachers to shape policy. Bristling at the 'cold calculus' of tests, This Is Not a Test calls for practices that engage imagination and respect students as people. In gripping language, Vilson sends students an urgent message: 'When we find our passions, we must enter into them boldly' and believe in the value and gift of ourselves.'"
Dennis Van Roekel, president, National Education Association
"In its telling, José Vilson's evocative collection of essays is ferociously honest and, as expected from someone whose creative impulses are informed by hip-hop, unapologetic and lyrical. A thoroughly engaging narrative about the intersection of race and culture, identity, economic disparity, and education, This Is Not a Test is a must-read for parents and educators who want to understand, truly and deeply, the challenges inner-city students face. It was, after all, written by one of those children, a young man from a marginalized community, who grew up and bum-rushed the system he dedicated his life to changing from within."
Raquel Cepeda, author, Bird of Paradise: How I Became Latina
"José's autobiographical journey offers a big window for seeing why our nation must blur the lines of distinction between those who teach in schools and those who lead them. With powerful prose and poetry, his narrative as student and then, later, an NYC teacher leader, loving father (and husband), and advocate for children paints a portrait of what public education can and must be for American society. José's last chapter, 'Why Teach,' offers a hopeful vision for the future of the profession, in spite of wrongheaded policymakers who seek to control teachers rather than listen to and learn from them. José represents so many teachers across the United States whose pedagogical skills and leadership acumen have yet to be tapped in the transformation of teaching and learning. Read This Is Not a Test now!"
Dr. Barnett Berry, CEO and founder, Center for Teaching Quality
"Too many books about teaching read like dull academic treatises, condescending how-tos, or simplistic Hollywood scripts. José Vilson's This Is Not a Test avoids these traps with a narrative that is by turns passionate and funny, angry and vulnerable, and full of keen insight born of on-the-ground experience in schools. Whether referencing Jay-Z or John Dewey, discussing corporate school reform or the intimacy of one-on-one interactions with students, Vilson is a bold and fearless writer, weaving his own story and struggles into broader conversations about race, equity, and the future of public schooling. His singular, urgent voice is one we all need to hear."
Gregory Michie, author, We Don't Need Another Hero: Struggle, Hope, and Possibility in the Age of High-Stakes Schooling
"José Vilson is a teacher of the highest order. Through the powerful narrative of his life both inside and outside of the classroom, José teaches us important lessons on every page of This Is Not a Test. José teaches us about the intersection of education, race, class and activism while calling all of us to do better—to be better—as we strive along with him to be the educators all our children need us to be. This book is a must-read for educators, soon-to-be educators, parents, students, and anyone who cares about education and the children of this country."
Chris Lehmann, founding principal, Science Leadership Academy
ABOUT THE AUTHOR:
José Luis Vilson is a middle school math educator for in the Inwood / Washington Heights neighborhood of New York City. He writes for Edutopia, GOOD, and TransformED / Future of Teaching, and his work has appeared in Education Week, CNN.com, The Huffington Post, and El Diario / La Prensa, NY.
RIGHTS INFORMATION:
Please contact subagents for the following languages and territories:
For all other languages/territories, please contact Roam Agency.