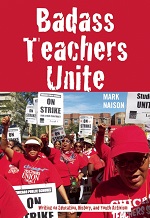 BADASS TEACHERS UNITE!
Reflections on Education, History, and Youth Activism
Mark Naison
Haymarket Books (June 2014, world English rights)
Paperback • ISBN-13: 9781608463619 • 200 pgs.
ABOUT THE BOOK:
This collection of important and much needed essays on education and youth activism draws from Naison's research on Bronx History and his experiences defending teachers and students from school reform policies which undermine their power and creativity. Naison's focus is identifying teaching and organizing strategies that have worked effectively in New York, and could be implemented in impoverished communities elsewhere.
PRAISE:
"There was an era when educators were feared by the corporate establishment. As Time magazine wrote in 1963, 'The U.S. teacher used to be afraid to smoke, chew, cuss or ask for a raise. Now he denounces crowded classrooms, upbraids lawmakers, and goes on strike almost as readily as a dockworker.' Mark Naison's Badass Teachers Unite brings back the attitude we need to back down the corporate reform bullies and retake our schools."
Jesse Hagopian teaches history and is the Black Student Union adviser at Garfield High School, the site of the historic boycott of the MAP standardized test,and is an associate editor for Rethinking Schools magazine
"In this powerful collection of essays, education activist and historian Mark Naison offers teachers, parents, students, and anyone else concerned with the health of public schools in this country some invaluable tools in the fight against corporate education reform. Badass Teachers Unite is a clarion call for all of us to reclaim public education in the name of social justice.""
Wayne Au, Associate Professor, University of Washington-Bothell, Editor, Rethinking Schools, co-editor, Pencils Down: Rethinking High-Stakes Testing and Accountability in Public Schools
"Mark Naison has woven a series of provocative essays into a powerful book. No traditional scholarly treatise, Badass Teachers Unite! is an Education Manifesto for the people's school reform movement. With clarity, verve, and passion, Naison outlines the challenges we face transforming public schools and he forges a guide to our actions. This book is must reading for anyone concerned about the plight of public schools in the USA today."
Henry Louis Taylor, Jr., Director, UB Center for Urban Studies, University at Buffalo
ABOUT THE AUTHOR:
Mark Naison is professor of African American studies and history at Fordham University. He is author of many books and articles including Communists in Harlem During the Depression and White Boy: A Memoir. The founder of the Bronx African American History project, Naison has emerged in the last five years as a passionate defender of America's public school teachers and students, founding groups like Dump Duncan, the Teachers Talk Back Project, and most recently, the Badass Teachers Association.
RIGHTS INFORMATION:
Please contact subagents for the following languages and territories:
For all other languages/territories, please contact Roam Agency.