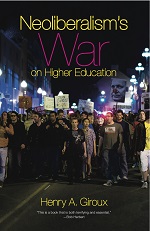 NEOLIBERALISM'S WAR ON HIGHER EDUCATION
Henry A. Giroux
Haymarket Books (Fall 2013, world English rights)
Trade Paper • ISBN-13: 9781608463343 • US $17 • 5 1/4 IN x 8 1/8 in • 200 pgs.
ABOUT THE BOOK:
Neoliberalism's War on Higher Education reveals how neoliberal policies, practices, and modes of material and symbolic violence have radically reshaped the mission and practice of higher education. Giroux charts a clear minded and inspired course of action out of the dark wood of market-driven education policy.
PRAISE:
"No one has been better than Henry Giroux at analyzing the many ways in which neoliberalism, with its vicious and predatory excesses, has damaged the American economy and undermined its democratic processes. Now, as Giroux brilliantly explains, it is threatening one of the nation's proudest and most important achievements — its system of higher education. This is a book that is both terrifying and essential."
Bob Herbert, Distinguished Senior Fellow at Demos, and former Op-Ed columnist for the New York Times
"Henry Giroux remains the critical voice of a generation. In this devastating portrayal of the neoliberal assault on the education system, he show with clarity, precision and ethical care the real consequences of the commodification of intellectualism. Indeed, more than revealing the contours of this most violent of intellectual landscapes, Giroux dares us to reevaluate the significance of public pedagogy as integral to any viable notion of democratic participation and social responsibility. Anybody who is remotely interested in the plight of future generations must read this book."
Dr. Brad Evans, School of Sociology, Politics and International Studies (SPAIS), University of Bristol
"Henry Giroux is one of our most important public intellectuals."
David H. Price, Professor of Anthropology, St. Martin's University
"Professor Giroux has focused his keen intellect on the hostile corporate takeover of higher education in North America. His work, meticulously researched, provides examples from popular culture to public intellectuals to demonstrate the hostility of neoliberalism to democracy, critical thinking and the academy. He is relentless in his defense of a society that requires its citizenry to place its cultural, political and economic institutions in context so they can be interrogated and held truly accountable. We are fortunate to have such a prolific writer and deep thinker to challenge us all."
Karen Lewis, president, Chicago Teachers Union
"Henry Giroux has been the most consistent and outspoken defender and promoter of the life-prospects and human dignity of which young generations were robbed or which they were prevented to recognize as their birth rights."
Zygmut Bauman
ABOUT THE AUTHOR:
Henry A. Giroux currently holds the Global TV Network Chair Professorship at McMaster University in the English and Cultural Studies Department. His most recent books include: Disposable Youth: Racialized Memories and the Culture of Cruelty and Youth in Revolt: Reclaiming a Democratic Future.
RIGHTS INFORMATION:
Languages & Territories Where Rights Have Been Sold:
Please contact subagents for the following languages and territories:
| Language/Territory | Subagent |
| --- | --- |
| China, Taiwan, Indonesia, Malaysia, and Vietnam | Big Apple Agency |
| English outside North America | David Grossman Literary Agency |
| German | Paul & Peter Fritz AG Literatur Agentur |
| Greek | Read n' Right Agency |
| Hebrew | The Deborah Harris Agency |
| Italian | The Nabu International Literary Agency |
| Japanese | The English Agency (Japan) Ltd |
| Korean | BC Agency, or Korea Copyright Center |
| Portuguese | RIFF Agency |
| Russia/Baltics/Eastern Europe | Prava I Prevodi |
| Scandinavia: Sweden, Norway, Finland, Denmark, Iceland | Brandt New Agency |
| Spanish in Latin America | International Editors' Co., S.A. |
| Spanish in Spain | International Editors' Co., S.A. |
| Turkish | Anatolialit Agency |
For all other languages/territories, please contact Roam Agency.