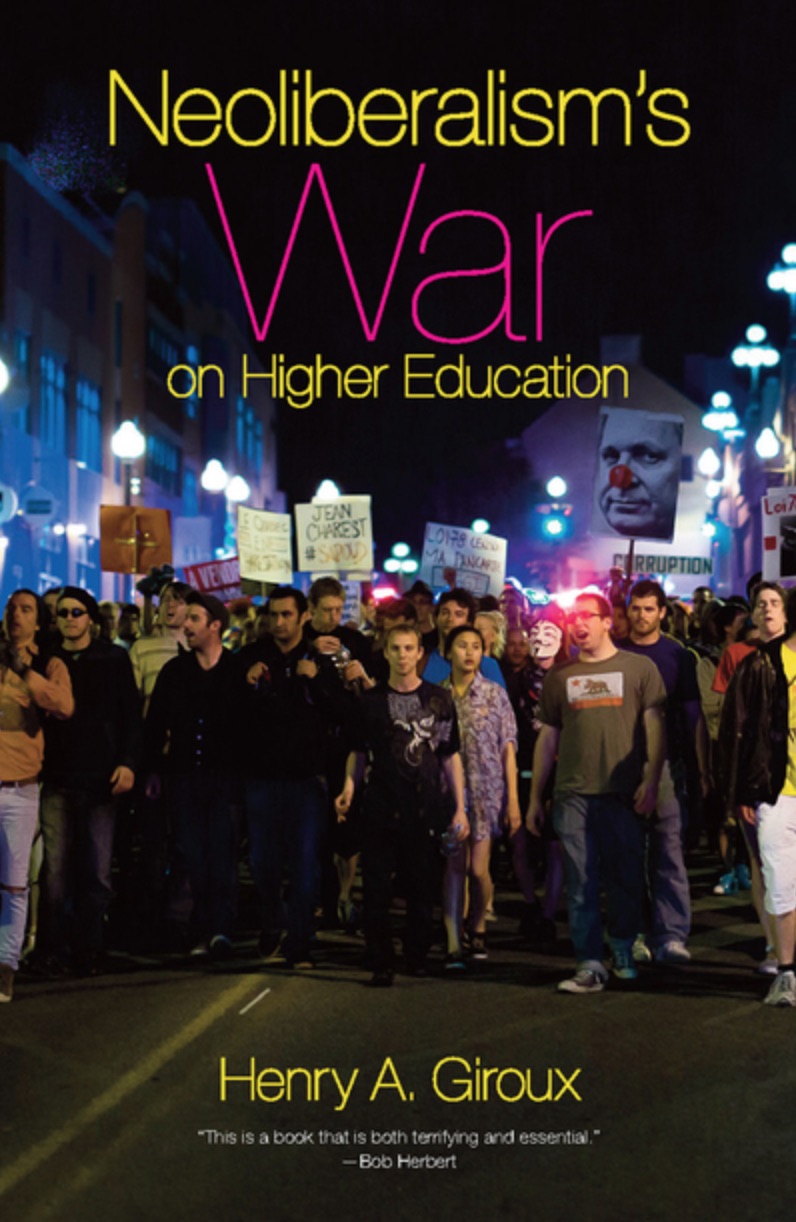 NEOLIBERALISM'S WAR ON HIGHER EDUCATION
Second Edition
Henry A. Giroux
Haymarket Books (Fall 2019)
Paper • ISBN-13: 9781642590371 • US $19.00
ABOUT THE BOOK:
Renowned scholar and cultural critic Henry A. Giroux exposes the corporate forces at play in higher education and charts a clear-minded and inspired course of action out of the shadows of market-driven policy. Championing the youth around the globe who have dared to resist the bartering of their future, he calls upon public intellectuals—as well as all people concerned about the future of democracy—to speak out and defend the university as a site of critical learning and democratic promise.
In this updated edition, Giroux puts all of this into the context of the Trump era, arguing that education remains a key battleground in the fight against authoritarianism.
PRAISE:
"No one has been better than Henry Giroux at analyzing the many ways in which neoliberalism, with its vicious and predatory excesses, has damaged the American economy and undermined its democratic processes. Now, as Giroux brilliantly explains, it is threatening one of the nation's proudest and most important achievements — its system of higher education. This is a book that is both terrifying and essential."
Bob Herbert, Distinguished Senior Fellow at Demos, and former Op-Ed columnist for the New York Times
"Henry Giroux remains the critical voice of a generation. In this devastating portrayal of the neoliberal assault on the education system, he show with clarity, precision and ethical care the real consequences of the commodification of intellectualism. Indeed, more than revealing the contours of this most violent of intellectual landscapes, Giroux dares us to reevaluate the significance of public pedagogy as integral to any viable notion of democratic participation and social responsibility. Anybody who is remotely interested in the plight of future generations must read this book."
Dr. Brad Evans, School of Sociology, Politics and International Studies (SPAIS), University of Bristol
"Henry Giroux is one of our most important public intellectuals."
David H. Price, Professor of Anthropology, St. Martin's University
"Professor Giroux has focused his keen intellect on the hostile corporate takeover of higher education in North America. His work, meticulously researched, provides examples from popular culture to public intellectuals to demonstrate the hostility of neoliberalism to democracy, critical thinking and the academy. He is relentless in his defense of a society that requires its citizenry to place its cultural, political and economic institutions in context so they can be interrogated and held truly accountable. We are fortunate to have such a prolific writer and deep thinker to challenge us all."
Karen Lewis, president, Chicago Teachers Union
"Henry Giroux has been the most consistent and outspoken defender and promoter of the life-prospects and human dignity of which young generations were robbed or which they were prevented to recognize as their birth rights."
Zygmut Bauman
ABOUT THE AUTHOR:
Henry A. Giroux currently holds the McMaster University Chair for Scholarship in the Public Interest in the English and Cultural Studies Department and is the Paulo Freire Distinguished Scholar in Critical Pedagogy. In 2002, he was named as one of the top fifty educational thinkers of the modern period in Fifty Modern Thinkers on Education: From Piaget to the Present as part of Routledge's Key Guides Publication Series.
In 2007, he was named by the Toronto Star as one of the "12 Canadians Changing the Way We Think. "His most recent books include: Neoliberalism's War on Higher Education (Haymarket 2014), The Violence of Organized Forgetting (City Lights 2014),Dangerous Thinking in the Age of the New Authoritarianism (Routledge, 2015), America's Addiction to Terrorism (Monthly Review Press, 2016), America at War with Itself (City Lights, 2017), The Public in Peril (Routledge, 2018), American Nightmare: Facing the Challenge of Fascism (City Lights, 2018), and his forthcoming, The Terror of the Unforeseen (Los Angeles Review of books, in press). Giroux is also a member of Truthout's Board of Directors. His web site is .henryagiroux.com.
RIGHTS INFORMATION:
Languages & Territories Where Rights Have Been Sold:
| Language/Territory | Publisher |
| --- | --- |
| Spanish/worldwide | Herder |
Please contact subagents for the following languages and territories:
For all other languages/territories, please contact Roam Agency.