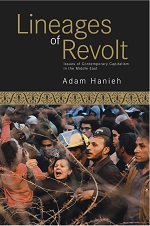 LINEAGES OF REVOLT
Issues of Contemporary Capitalism in the Middle East
Adam Hanieh
Haymarket Books (Fall 2013, world English rights)
Trade Paper • ISBN-13: 9781608463251 • US $19.95 • 6 1/4 in x 8 1/2 in • 348 pgs.
ABOUT THE BOOK:
While the outcomes of the tumultuous uprisings that continue to transfix the Arab world remain uncertain, the root causes of rebellion persist. Drawing upon extensive empirical research, Lineages of Revolt tracks the major shifts in the region's political economy over recent decades. In this illuminating and original work, Adam Hanieh explores the contours of neoliberal policies, dynamics of class and state formation, imperialism and the nature of regional accumulation, the significance of Palestine and the Gulf Arab states, and the ramifications of the global economic crisis. By mapping the complex and contested nature of capitalism in the Middle East, the book demonstrates that a full understanding of the uprisings needs to go beyond a simple focus on "dictators and democracy."
PRAISE FOR CAPITALISM AND CLASS IN THE GULF ARAB STATES:
"This important, original work should be read by anyone with an interest in the political economy of the Middle East."
Middle East Research and Information Project (MERIP)
"Hanieh's groundbreaking book argues that we should not view the Gulf Arab states as anomalies in the worldwide economy."
Arab Studies Journal
"Insightful, timely, and welcome … the analytical framework and substantial data he puts forward in the book will help readers map out the current and future processes of regional integration, class formations, and contradictions, and to situate these processes within the wider global political economy."
International Socialist Review
ABOUT THE AUTHOR:
Adam Hanieh is a Senior Lecturer in Development Studies at the School of Oriental and African Studies (SOAS), University of London (UK). He is author of Capitalism and Class in the Gulf Arab States.
RIGHTS INFORMATION:
Languages & Territories Where Rights Have Been Sold:
Please contact subagents for the following languages and territories:
For all other languages/territories, please contact Roam Agency.