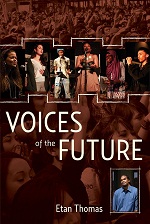 VOICES OF THE FUTURE
By Etan Thomas
Haymarket Books (May 2013, world English rights)
ISBN-13: 9781608462711 • Trade paper • 6 x 9 • US $18 • 220 p.
ABOUT THE BOOK:
Voices of the Future allows young people to express their opinions, beliefs, and thoughts to the world. Broken down by subject matter, each section begins with a selection from an interview between NBA star Etan Thomas and political sportswriter Dave Zirin, followed by a Thomas poem and the writings of a young author.
PRAISE:
"[Voices of the Future is] so necessary a book that it truly deserves the term fantastic."
Chuck D, of Public Enemy
"Etan Thomas is this generation's athlete with a moral conscience and a voice."
Kevin Powell, author of Who's Gonna Take The Weight?
"The Poetic voice of his generation."
Kareem Abdul-Jabbar
"Many of our youth are very concerned with what's happening and what's not happening now. They have vision and a lot more understanding than given credit for. This effort by Etan Thomas is a testament to that fact."
Abiodun Oyewole of The Last Poets
"Etan Thomas is breaking it down for our young minds on how to be a vital part of this challenging world we all live in. Let's give it up for Etan."
Spike Lee
"Etan Thomas is a leader not only on the basketball court but off the court as well. He encourages young people to speak and write about the most crucial issues of our time."
Amy Godman
ABOUT THE AUTHOR:
Etan Thomas is a recipient of the 2010 National Basketball Players Association Community Contribution Award as well as the 2009 Dr. Martin Luther King Jr. Foundation Inc Legacy Award. His body of work includes a collection of poems released in 2005 called More Than An Athlete, and Fatherhood: Rising to the Ultimate Challenge. His writings have appeared in CNN, the Huffington Post, Hoopshype.com and slamonline.
RIGHTS INFORMATION:
Audio book:
Please contact subagents for the following languages and territories:
| Language/Territory | Subagent |
| --- | --- |
| China, Taiwan, Indonesia, Malaysia, and Vietnam | Big Apple Agency |
| English outside North America | David Grossman Literary Agency |
| German | Paul & Peter Fritz AG Literatur Agentur |
| Greek | Read n' Right Agency |
| Hebrew | The Deborah Harris Agency |
| Italian | The Nabu International Literary Agency |
| Japanese | The English Agency (Japan) Ltd |
| Korean | BC Agency, or Korea Copyright Center |
| Portuguese | RIFF Agency |
| Russia/Baltics/Eastern Europe | Prava I Prevodi |
| Scandinavia: Sweden, Norway, Finland, Denmark, Iceland | Brandt New Agency |
| Spanish in Latin America | International Editors' Co., S.A. |
| Spanish in Spain | International Editors' Co., S.A. |
| Turkish | Anatolialit Agency |
For all other languages/territories, please contact Roam Agency.