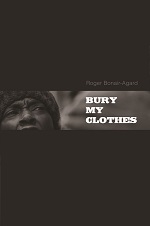 BURY MY CLOTHES, OR: THE GOSPEL ACCORDING TO ST. ALOE THE BLACK
FINALIST FOR THE NATIONAL BOOK AWARD IN POETRY
By Roger Bonair-Agard
Haymarket Books (2013, world English rights)
ISBN-13: 9781608462698 • Trade paper • 5.5 x 8.5 • US $16 • 120 pgs.
ABOUT THE BOOK:
Bury My Clothes is a meditation on violence. It is a meditation on race. It is a meditation on the places at which they intersect, politically, culturally and personally. As an idea, the collection of poems hoped to explore the history of violence in the development of Trinidad and Tobago's steel pan culture and parallel it to the history of violence in the development of America's hip-hop culture. Amongst oppressed communities of color, it is about survival. It is about establishing personhood in the world, where everything around suggests non-personhood. And as such, it establishes legacy in a culture and history of non-ownership, through the ownership of idea and ideal.
The all-time great calypsonian, The Growling Tiger sang "When ah dead, bury meh clothes / ah doh want no sweet man to wear meh clothes." He wanted what made him new and fresh and a man whose personhood was established to go with him when he died. It was all he owned, all he would ever own. The refrain is a favorite rhythm in the gayelle, for the traditional stickfights that are part of the slave rebellion history in Trinidad and Tobago. It is a song of lament and conjure. It undulates the shoulders and drives the feet into the dirt. It lifts the body up and cracks the stick. It draws the blood. It buries the man, a man, a hero on his own terms.
The poems in this powerful collection do that plus offer a prayer, a signpost for a new more total way to exist, even as they acknowledge "I am a black poet / plain and simple. I don't know if I was black before I was a poet/ but I come from a people who have ways/ of telling such things." The poems are about gathering again, from wherever they might come, all those people.
PRAISE:
"Bury My Clothes is a gut-level read, one that you must prepare for with not only your head, but also your body. These unapologetically relentless stanzas, practically quivering with funk and resolve, will slam their fists into places you have not yet discovered. Serving up a gospel that teeters on the blade edge between calm and chaos, one of poetry's premier storytellers has taught the city to speak with his voice."
Patricia Smith, author, Blood Dazzler, finalist for the National Book Award
"Bury My Clothes is a breadth of language that straddles Arouca and Chicago, hip-hop, and calypso with the brawling, affirming righteousness of the Black televangelist leading us through violence and love to the wealth of unexpected tenderness."
Earl Lovelace, author, Is Just a Movie
"If there is a poet for this Zeitgeist, of Arab Spring, of governments toppling, a poet to listen to the people, a poet not just for this country but all countries, a poet I have been looking for my whole life, it is Roger Bonair-Agard."
Sean Thomas Dougherty
"Roger Bonair-Agard's Bury My Clothes is an epic work within which we witness a man becoming himself — fighting for his beauty and the right to love a world on his terms of tenderness and seeing. In a purportedly 'post-racial' time, these poems illuminate the reckless inaccuracy of the term and offer up a speech textured with both the violence of racial construction and the complicated gorgeousness borne out of survival and adaptation, resulting in a tenacious and difficult music, one that is not easily pinned. This is an ode to blackness written by the blood's dusky map, its knowledge of heartlife and loss. Here, Bonair-Agard reminds us that History lurks beneath all speech and silence. One cannot leave untouched—so quick are his hands, so quick is his tongue, so built out of the 'sweet science of bruising' is his language. These poems insist on the beauty of the darknesses we are bound by, and mean to help us live by reminding us: there is no crevice of grief or grace where something does not bloom."
Aracelis Girmay, author of Teeth and Kingdom Animalia
"Roger Bonair-Agard have some throat on him for sure. Bury My Clothes have a story to tell, and in that, ten thousand stories clamoring with the rattling breath of the cosmos and crowding into the picture, echo after echo from long ago and from just a minute past, from the islands and from Africa, from the hard localities of lost and disappearing things. There are no outsiders here — everyone inside, each a fragment of the whole, spice and accent for the delicious stew he invite us to cook up with him. Pour a cup, then another, listen hard or easy to the young Skipper, but listen."
William C. Ayers, author of Fugitive Days
"Bury My Clothes is the sound of language breaking open, revealing what it hides about past and present. In this collection, the reader gets the feeling that Bonair-Agard is reaching father both in time and syntax to say more than he has ever said before. It is a master work, in which the poet has found, 'the canopy of night black enough for everything he's ever wanted to say.'"
Karen Finneyfrock
Praise for Bonair-Agard's earlier work:
"An expatriate of the islands, these poems explore a longing for home, a bold criticism of familial and societal injustices, all played to the backbeat of a steel drum."
Chicago Sun Times
"Bonair-Agard is a poet who fixes his experience with memory and uses memory image as analyzer of his experience. A poet of live language mastering it's literary 'statement.' Someone whose poetry can be entered and felt and understood. An impressive work."
Amiri Baraka
ABOUT THE AUTHOR:
Roger Bonair-Agard is a native of Trinidad & Tobago, a Cave Canem fellow and author of Tarnish and Masquerade (Cypher Books, 2006) and GULLY (Cypher Books/Peepal Tree Press, 2010). Co-founder and Artistic Director of NYC's louderARTS Project, Roger is also an MFA candidate at University of Southern Maine's Stonecoast Program. He is a consulting artist with Young Chicago Authors and teaches at Cook County Juvenile Temporary Detention Center. He is expecting his first child. He lives in Brooklyn, NY.
RIGHTS INFORMATION:
Please contact subagents for the following languages and territories:
For all other languages/territories, please contact Roam Agency.