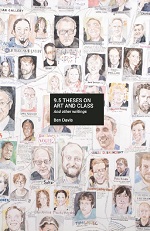 9.5 THESES ON ART AND CLASS AND OTHER WRITINGS
By Ben Davis
Haymarket Books (May 2013, world English rights)
ISBN-13: 9781608462681 • Trade paper • 5 1/4 x 7 7/8 • US $16 • 224 p.
ABOUT THE BOOK:
This book seeks to show how a clear understanding of class makes sense of what is at stake in a broad number of contemporary art's most persistent debates, from definitions of political art, to the troubled status of "outsider" and street art, to the question of how we maintain faith in art itself in a dysfunctional world.
PRAISE:
"In this provocative essay collection, Artinfo executive editor Davis's thesis makes the relentless theoretical debates over art and politics seem tangential. 'There are no formal or aesthetic solutions to the political and economic dilemmas that art faces — only political and economic solutions,' he writes. An old-fashioned Marxist, Davis examines class and inequality to address problems that bedevil contemporary art (the distortions effected by scandalous amounts of cash, for instance), problems that he claims are also those of society at large. Davis is an intellectually clearheaded critic dishing out some tough truths, often backed up with statistics, to the rarefied 'art world.' For example, he attributes the underrepresentation of female artists in galleries and collections to the gender pay gap and the absence of an 'activist-oriented women's rights movement.' He condemns what he aptly calls 'aesthetic politics' as a delusion and an 'excuse not to be engaged in the difficult, ugly business of organizing.' His claim that visual art is essentially a form of 'middle-class labor' dispels the lofty romance that obscures the social position of artists. The book reframes the production and sale of art in tough terms, which is why the collection's centerpiece, '9.5 Theses on Art and Class,' should be required reading for art professionals. In this first book, Davis proves himself a critic to be reckoned with."
Publishers Weekly
"Just when it seemed that contemporary art writing and the subject of real-life politics had permanently parted ways, along comes the young New York critic Ben Davis with a book that brings them together. No cheerleading here, no swoony prosody, no easy kiss-offs; just smart, ardent, illusion-puncturing observation and analysis on the intersection of art, commerce, and — the elephant in the art fair V.I.P. lounge — class. None of this would matter much of he didn't tell us why we should care, but he does. Under all his excoriations lies a faith in art as an agent of transformation toward a post-neoliberal, post-greed society that could be, should be."
Holland Cotter art critic for the New York Times
"Bracing, provocative, exasperated, and good humored, Davis is skilfully committed to getting the best out of art and art theory — and the world."
China Miéville
"9.5 Theses on Art and Class is the first book I've read by an art critic that spoke to the world I lived and worked in as an artist. Incisive, irreverent, and intellectually fearless. A truth-bomb of a book."
PMolly Crabapple
"Among excellent younger critics now is Ben Davis."
Peter Schjeldahl (art critic for the New Yorker), in Frieze Magazine
"Ben Davis' 'On the Age of Semi-Post-Postmodernism' engaged directly with the complexity of the present moment, refusing a flight into this or that idea of 'the contemporary' while his '9.5 Theses on Art and Class' gave an apparently un-publishable voice to an unarticulated, if widely held sentiment about the economic reality of the art market."
Stephen Squibb, Best Art Writing of 2010, Artlog
"'Postmodernism,' my fellow art scribe Ben Davis wrote in paraphrase of the cultural critic Fredric Jameson, 'is the cultural logic of neoliberalism.' No truer sentence has been penned in the past decade; no more radical idea has been elevated from beneath the collective proboscis."
Christian Viveros-Faune, Village Voice
ABOUT THE AUTHOR:
Ben Davis was born in Seattle, Washington. He currently lives and works in New York City where he is Executive Editor at Artinfo.
RIGHTS INFORMATION:
Languages & Territories Where Rights Have Been Sold:
| Language/Territory | Publisher |
| --- | --- |
| English in India, Nepal, Bangladesh, and Sri Lanka | Aakar Books |
Please contact subagents for the following languages and territories:
For all other languages/territories, please contact Roam Agency.