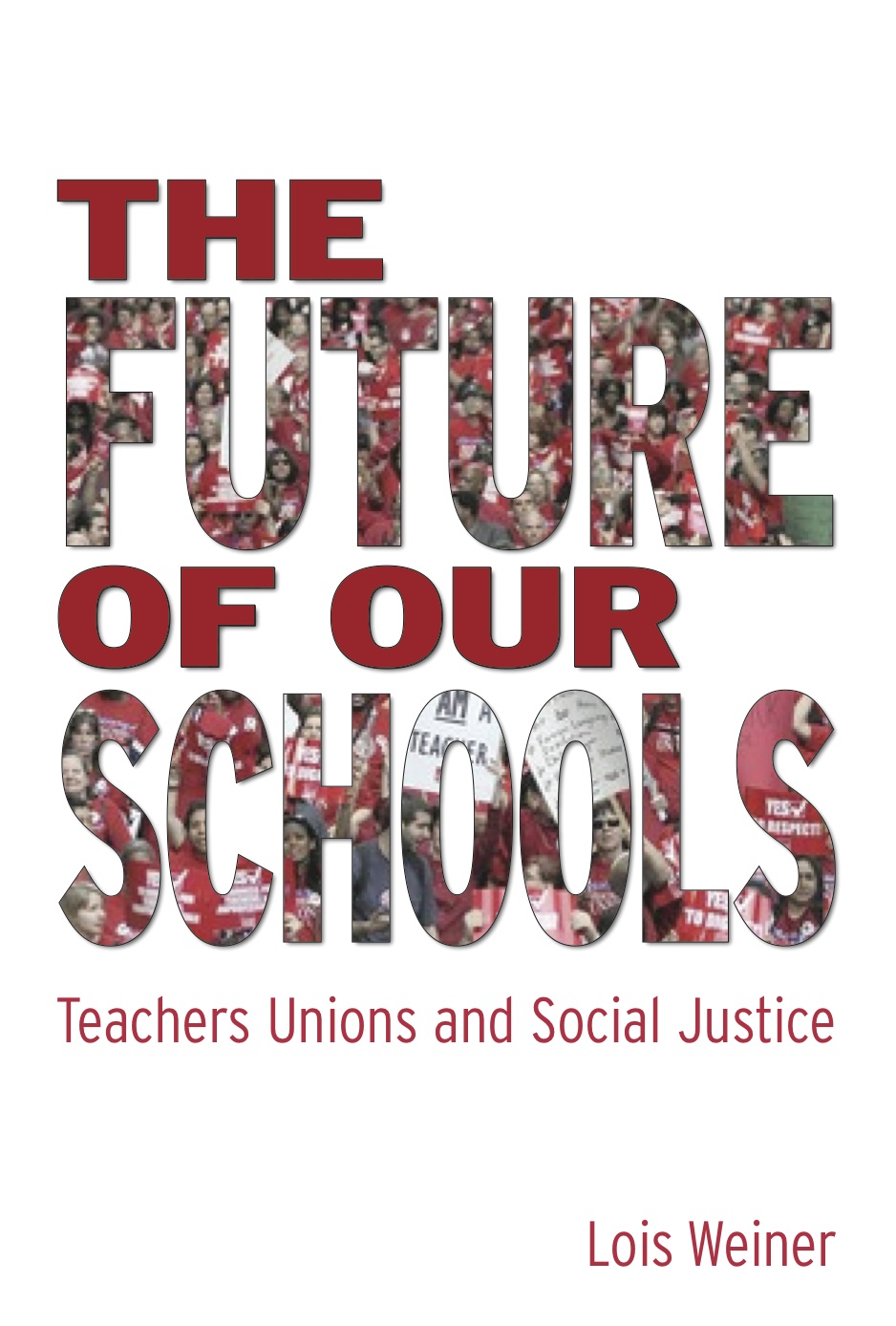 THE FUTURE OF OUR SCHOOLS
Teachers Unions and Social Justice
By Lois Weiner
Haymarket Books (October 2012, world English rights)
Paper • ISBN-13: 9781608462636 • 240 p.
ABOUT THE BOOK:
Throughout the world, teachers, parents, and students are experiencing wrenching changes in how schools are run, who teaches, and what may be taught. Corporate chiefs, politicians in their thrall, and foundations that receive funding from billionaires who profit from pro-business education policies are turning schools into factories that will produce minimally educated workers who compete for low-wage jobs. The noose of standardized testing is tightening, turning education into test preparation.
In The Future of Our Schools, Lois Weiner, an internationally known authority on urban teaching, teacher education, and teacher unions, advises today's teachers about how to reverse this chilling agenda. She explains why teachers who care passionately about teaching and social justice need to unite the passion for teaching to efforts to democratize and transform teacher unions. Drawing on research and her experience as a public school teacher and union activist, this scholar/activist explains how to create the teachers unions public education desperately needs.
PRAISE FOR LOIS WEINER:
"Weiner has written a book that is informative, jarring in its analysis of prevailing assumptions about preparing urban teachers, and constructive in its designs for improved programs… She knows well the dilemmas of teacher education and the joys and difficulties of daily teaching. Few books on teacher education carry such authority of experience, blending analysis and passion, as this one does."
Larry Cuban
"As a teacher who is currently working in an urban setting, I owe a lot of my success to Lois Weiner."
Joe Bailey, English as a Second Language teacher
"If you are a teacher and have ever wondered who it is that is pulling your strings, and how and why they are doing it, you'll find this book fascinating and frightening in equal measure."
Phil Beadle, Guardian columnist and UK teacher, reviewing The Global Assault on Teaching, Teachers, and Their Unions: Stories for Resistance
ABOUT THE AUTHOR:
Lois Weiner (http://www.loisweiner.org/) began her career in education as a high school teacher of English, journalism, and home economics, and for fifteen years taught in public schools in California, suburbs of New York, and New York City itself. After receiving her doctorate from Harvard Graduate School of Education, she began teaching education at New Jersey City University, where she now coordinates a graduate program for experienced urban teachers.
Her first book, Preparing Teachers for Urban School was honored by the American Educational Research Association (AERA) for its contribution to research on teacher education. To bring her research to a wider audience, Dr. Weiner wrote Urban Teaching: The Essentials, which has been called a "classic" and is used in programs of teacher education throughout the U.S. and Canada. She is the author of dozens of articles on urban teaching and school reform and is well-known in teacher education as a scholar/activist committed to social justice.
A life-long teacher union activist, she has served as an officer of three different union locals. She served as President of the AERA Special Interest Group on teachers' work and teachers unions. She and Mary Compton co-edited a path-breaking collection of essays, The Global Assault on Teaching, Teachers, and Their Unions: Stories for Resistance. The book is unique in combining an international perspective on the attacks on public education with analysis about the role of teacher unions in developing global resistance.
Professor Weiner completed her undergraduate studies at the University of California, Berkeley, and the University of Stockholm, Sweden and received her M.A. from Teachers College, Columbia University. She is a member of the editorial board of New Politics, for which she blogs on education and politics.
RIGHTS INFORMATION:
Please contact subagents for the following languages and territories:
For all other languages/territories, please contact Roam Agency.