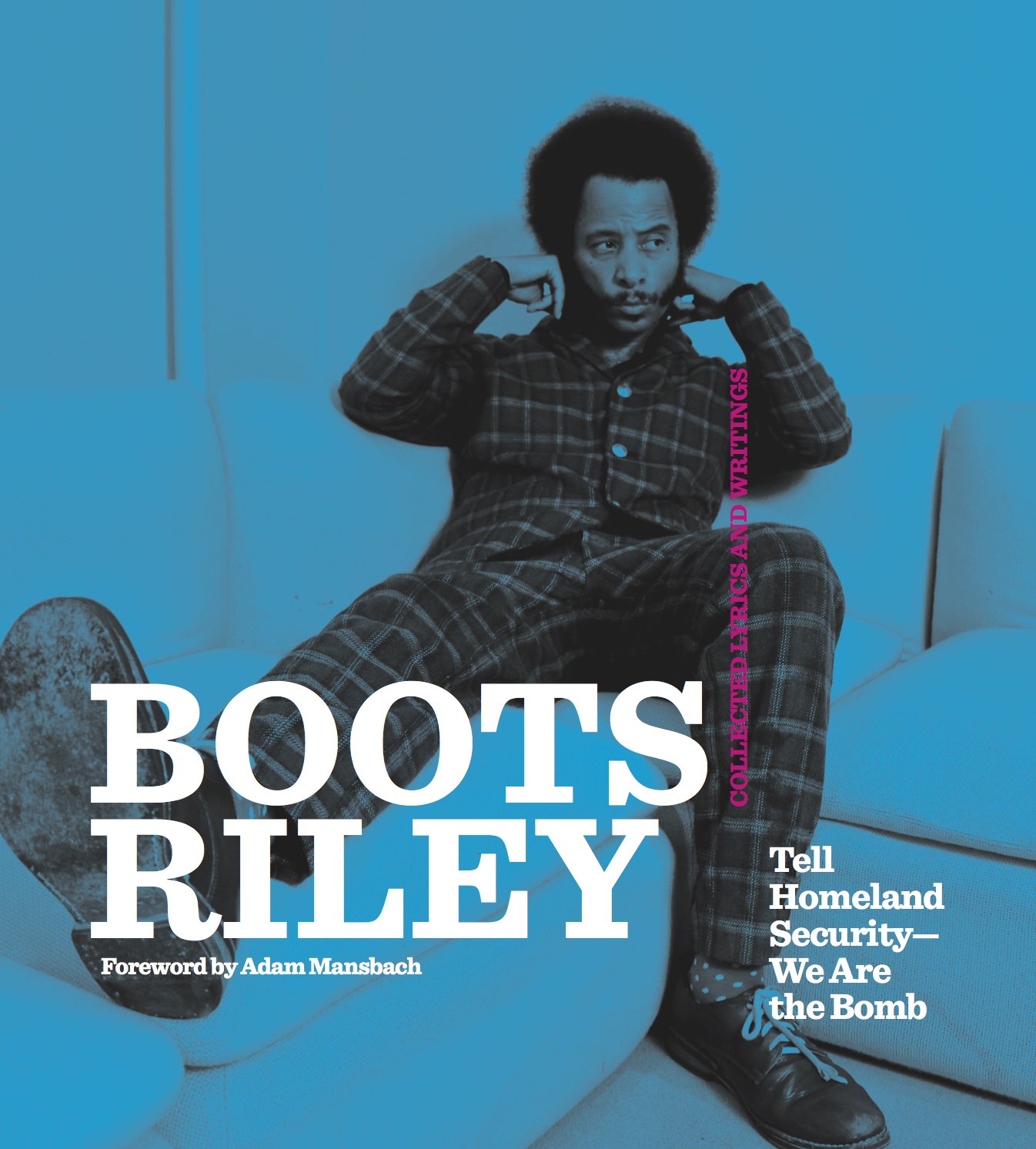 Tell Homeland Security-We Are the Bomb: Collected Lyrics and Writings
By Boots Riley
With an introduction by Adam Mansbach
Haymarket Books (2015, English worldwide)
Trade paper • ISBN-13: 9781608462537 • 7 x 9 • US $22.95 • 234 p.
ABOUT THE BOOK:
Provocative and prolific, Boots Riley has written lyrics as the frontman of underground favorites The Coup and and Street Sweeper Social Club, as well as solo artist, for more than two decades. An activist, educator, and emcee, Riley's singular lyrical stylings combine hip-hop poetics, radical politics, and wry humor with Bay Area swag. Tell Homeland Security-We Are the Bomb: Collected Lyrics and Writings brings together his songs, commentary, and backstories with compelling photos and documents.
PRAISE:
"In an industry built on ego, Boots has made a career of self-effacement-of working for something bigger than fame, and bigger than hip-hop."
Adam Mansbach, from the foreword
"Every line of Boots Riley's work brims with the grit of the underdog, burns with rage, wit, and tenderness. It's no secret he is one of the most influential poets and thinkers of this generation."
Jeff Chang, author of Can't Stop, Wont Stop: A History of the Hip-Hop Generation
"Boots lyrics contain the wit and satire to match their venom and their potent political punch. His intricate yet relatable rhymes are like a combination of a Richard Pryor sketch and a guerrilla warfare manual."
Tom Morello
"Boots's unparalleled lyrics are here, but there's so much more, too-all of it bearing Boots's trademark combination of revolutionary politics, absurdist humor, and rare lyricism. This is a great book about a great man."
Dave Eggers
"Boots Riley refuses to die, but he also refuses to apologize for being alive. Since I was a wee lad watching videos on Rap City till now, Boots Riley has been invading my conscious with his funky, revolutionary words, music, and actions. Revolutionary, poet, rock star, and champion of the people, Boots Riley will not be ignored."
Talib Kweli
"No mere compendium of rhymes, Tell Homeland Security-We Are the Bomb: Collected Lyrics and Writings is his Red Book-at once a manifesto, a work of art, an archeology of knowledge, a genealogy of revolutionary funk, and a window onto a world of injustice and joy, pain, and possibility. Dig it!"
Robin D. G. Kelley, author of Thelonious Monk
"The very existence of a person like Boots Riley is a miracle: he unites profound theoretical insights into the deadlocks of global capitalism, authentic political engagement in the Occupy movement, and wonderful musical performances."
Slavoj Žižek
"It's not every day that you have a poet from Oakland kick start a political hip-hop movement, but that's what Boots Riley specializes in: bringing the concentrated, undiluted vision of his area to the world. Oakland flow, y'all. Check it."
DJ Spooky
"I've always respected and admired Boots' unique style as a lyricist. He is at once a storyteller, agitator, educator, comedian, poet, and emcee with a degree in authenticity and a double major in empathy. All Bob Marley ever had was redemption songs-and all Boots ever wrote are lyrics of liberation!"
STIC of dead prez
"For more than two decades, the music of Boots Riley and The Coup has been my soundtrack: a spicy synthesis of filthy funk and prophetic political fire. Tell Homeland Security-We Are the Bomb: Collected Lyrics and Writings is an epic achievement: twenty-five years of genius between two covers. I cannot recommend this book highly enough."
Dave Zirin, author, What's My Name, Fool?
"Boots Riley is the voice of his generation. There is anger here for a heartless system, but there is also a great deal of compassion and hope for the future of humanity. Inside these lyrics and these sentences can be measured the heart rate of Occupy, BlackLivesMatter, Anonymous, Dreamers, Dream Defenders."
Vijay Prashad, author, The Poorer Nations
ABOUT THE AUTHOR:
Boots Riley is an American poet, rapper, songwriter, producer, screenwriter, humorist, political organizer, community activist, lecturer, and public speaker-best known as the lead vocalist of The Coup and Street Sweeper Social Club. He lives in Oakland, California.
Adam Mansbach is the author of the instant New York Times bestsellers Go the Fuck to Sleep and You Have to Fucking Eat. His latest novel, Rage is Back, was named a Best Book of 2013 by NPR and the San Francisco Chronicle and is currently being adapted for television; his previous novels include the California Book Award-winning The End of the Jews and the cult classic Angry Black White Boy. Mansbach is the recipient of a Reed Award, a Webby Award, and a Gold Pollie from the American Association of Political Consultants for his 2012 campaign video "Wake The Fuck Up," starring Samuel L. Jackson. He was the 2009-11 New Voices Professor of Fiction at Rutgers University, a 2012 Sundance Screenwriting Lab Fellow, and a 2013 Berkeley Repertory Theater Writing Fellow, and will be the 2015 Artist in Residence at Stanford University's Institute for Diversity in the Arts. His work has appeared in The New Yorker, New York Times Book Review, Esquire, The Believer, Salon.com, and on National Public Radio's All Things Considered. He is currently writing an original screenplay about a young Barack Obama for director Vikram Gandhi. He lives in Berkeley, California.
RIGHTS INFORMATION:
Please contact subagents for the following languages and territories:
For all other languages/territories, please contact Roam Agency.