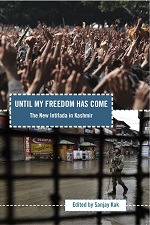 UNTIL MY FREEDOM HAS COME
The New Intifada in Kashmir
Edited by Sanjak Kak
Haymarket Books (November 2012, world English rights)
Trade paper • ISBN-13: 9781608462520 • 5 5/8 x 8 1/2 • US $15.95 • 303 p.
ABOUT THE BOOK:
The pieces in this volume voice the rage and helplessness sweeping through the Kashmir Valley, while offering rare insights into the lives of those caught in the crossfire. With contributions from journalists, academics, and artists, this book is a timely collection of some of the most exciting writing that has recently emerged from within Kashmir, and about it.
PRAISE:
"Here is a book that rips through the falsehoods and false noise that has deepened the silence about Kashmir."
Arundhati Roy
"A brave and resourceful new generation of Kashmiris is finally shattering the Valley's long solitude."
Pankaj Mishra
ABOUT THE EDITOR:
Sanjay Kak is an independent documentary filmmaker. His film "In the Forest Hangs a Bridge" received the "Golden Lotus" for Best Documentary Film at the 1999 National Film Awards in India.
RIGHTS INFORMATION:
Languages & Territories Where Rights Have Been Sold:
| Language/Territory | Publisher |
| --- | --- |
| English in South Asia | Penguin India |
| Regional languages in South Asia | Reserved |
Please contact subagents for the following languages and territories:
For all other languages/territories, please contact Roam Agency.