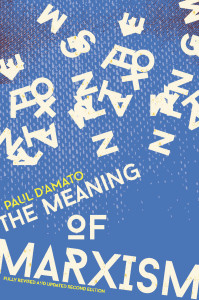 THE MEANING OF MARXISM
Updated Edition
By Paul D'Amato
Haymarket Books (2012, world English rights)
Paper • ISBN-13: 9781608462506 • US $15 • 164 p.
ABOUT THE BOOK:
It is fashionable for pundits to declare every so often that Marxism is dead. As the late socialist author Daniel Singer aptly put it, their aim "is to doom as impossible a radical, fundamental transformation of existing society."
But you can't keep a good theory down. The poverty, class inequality, war and environmental degradation that today's globalized capitalist system creates on an ever-expanding scale raises questions for which Marxism still offers fresh and relevant answers.
This book is a lively and accessible introduction to the ideas of Karl Marx, as well as other key Marxists, with historical and contemporary examples. The Meaning of Marxism shows that a "radical, fundamental transformation of existing society" is indeed not only possible, but urgently necessary.
PRAISE:
"Marx's ideas remain crucial for comprehending the modern world, and no one does a better job of explaining them and showing how to apply them to contemporary issues than Paul D'Amato. This book is a treasury of powerful arguments illustrating the continuing relevance of class politics. A superb introduction to the Marxist method."
Phil Gasper, editor of The Communist Manifesto: A Road Map to History's Most Important Political Document
"There is an expression that Marxism is not merely a theory but a guide to action. Paul Damato's new book, The Meaning of Marxism, represents the best of that tradition. In his able hands, Marxist politics come alive and leap before us, pointing a way toward a better world. It's a knockout."
Dave Zirin, author, What's My Name, Fool? Sports and Resistance in the United States
"When it comes to thinking about the continuing relevance of Marxist principles and perspectives for today's political struggles, Paul D'Amato is one of the best writers around. Every progressive activist has something to learn from this volume."
William Keach, Brown University
"Paul D'Amato reintroduces us to the classical Marxist tradition, showing how revolutionary socialist ideas remain the most powerful tools for changing the upside-down world of 21st-century capitalism."
Lance Newman, Westminster College
ABOUT THE AUTHOR:
Paul D'Amato is the associate editor of the International Socialist Review. His writing has appeared in CounterPunch, Socialist Worker and Selves and Others.
RIGHTS INFORMATION:
Languages & Territories Where Rights Have Been Sold:
| Language/Territory | Publisher |
| --- | --- |
| Chinese simplified/ Mainland China, excluding Taiwan, Hong Kong, Macau | Chongqing |
| English in India, Nepal, Bangladesh, and Sri Lanka | Aakar Books |
| Korean/worldwide | Chaekgalpi |
| Turkish/worldwide | Ayrinti |
Please contact subagents for the following languages and territories:
| Language/Territory | Subagent |
| --- | --- |
| China, Taiwan, Indonesia, Malaysia, and Vietnam | Big Apple Agency |
| English outside North America | David Grossman Literary Agency |
| German | Paul & Peter Fritz AG Literatur Agentur |
| Greek | Read n' Right Agency |
| Hebrew | The Deborah Harris Agency |
| Italian | The Nabu International Literary Agency |
| Japanese | The English Agency (Japan) Ltd |
| Korean | BC Agency, or Korea Copyright Center |
| Portuguese | RIFF Agency |
| Russia/Baltics/Eastern Europe | Prava I Prevodi |
| Scandinavia: Sweden, Norway, Finland, Denmark, Iceland | Brandt New Agency |
| Spanish in Latin America | International Editors' Co., S.A. |
| Spanish in Spain | International Editors' Co., S.A. |
| Turkish | Anatolialit Agency |
For all other languages/territories, please contact Roam Agency.