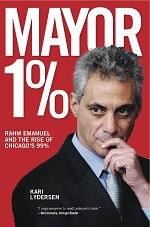 MAYOR 1%
Rahm Emanuel and the War Against Chicago's 99%
By Kari Lydersen
Haymarket Books (September 2013, world English rights)
ISBN-13: 9781608462223 • Trade paper • 5.5 x 8.5 • US $16 • 297 p.
ABOUT THE BOOK:
How did a city long dominated by a notorious Democratic Machine become a national battleground in the right-wing war against the public sector? In Mayor 1%, veteran journalist Kari Lydersen takes a close look at Chicago mayor Rahm Emanuel and his true agenda.
With deep Wall Street ties from his investment banking years and a combative political style honed in Congress and the Clinton and Obama administrations, Emanuel is among a rising class of rock-star mayors promising to remake American cities.
But his private-sector approach has sidelined and alienated many who feel they are not part of Emanuel's vision for a new Chicago — and it has inspired a powerful group of activists and community members to unite in defense of their beloved city.
Kari Lydersen is a Chicago-based journalist who has worked in the Midwest bureau of the Washington Post and is the author of three previous books. She is also a journalism instructor at several Chicago colleges.
PRAISE:
"Lydersen demonstrates that journalism still has the power to sway both hearts and minds."
Brian Awehali, LiP Magazine
"This book provides deep insight into the political career of Rahm Emanuel. Painstakingly researched, Mayor 1% provides the reader with the ability to understand the hard-line ne- oliberal mindset that blinds the man to the harsh realities of entrenched poverty and dis- enfranchisement. The relentless attacks on Chicago's working class, from the janitors at O'Hare to the librarians, mental health workers, and members of the Chicago Teachers Union have shown the true nature of a man who will have plenty of money from the bil- lionaires to run his re-election campaign, but none of the love of the people who will not pull the lever for him. Kari Lydersen ends on a hopeful note: that Mayor 1%'s brutal reign can actually lead to a better Chicago as people get up, stand up and fight the 'power.'"
Karen Lewis, president, Chicago Teachers Union
"While banks and corporations continue to enjoy record-breaking profits, working families across Chicago continue to face school closings, foreclosures, and devastating privatization. Lydersen's book lifts up the extraordinary power of everyday people to stand up, fight back, dream big, and join together to make transformative change. Rarely does a journalist do such justice to the in the trenches organizing work that is vital to undermining oppressive city policies and abusive corporate influences."
Amisha Patel, Executive Director, Grassroots Collaborative
"In Mayor 1% Kari Lydersen surveys the expansive and deeply contested first-term record of Chicago mayor Rahm Emanuel. Her work touches every flashpoint of Emanuel's kinetic drive to govern the city as he sees fit. Along the way, Lydersen admirably and poignantly gives voice to the activist community that has become the mayor's fiercest critic, while calling out his staunchest business allies."
Robert Bruno, University of Illinois at Chicago
"Lydersen's book demonstrates the type of thorough investigative journalism we need in Chicago to keep all politicians and public servants accountable. It exposes the public policy that the city of Chicago and its constituents didn't expect from a Democratic mayor of the "City that Works." Lydersen's book shows the real Rahm Emanuel, leading the race to the bottom by killing off good middle-class jobs instead of upholding job standards that help build a strong workforce and the robust economy our city desperately needs."
Tom Balanoff, President, SEIU Local 1
"If you want to understand how a Democrat became so reviled among the middle and working class citizens in modern day Chicago, please read this book. This is the story of organized money vs. organized people in the Second City, and the impact of what happens here ripples across the nation in our public schools, in our healthcare centers, and in our streets. It might be that Obama brought the Windy City to the Potomac, but Emanuel attempts the reverse in Chicago, and as Lydersen notes in great detail, "Rahm" might be a master at fundraising and manipulating the image of his public office, but confrontations are unavoidable when a city manager doesn't respect his electorate."
Adam P. Heenan, Chicago Public Schools Civics Teacher
ABOUT THE AUTHOR:
Kari Lydersen has worked since 1997 as a Chicago-based journalist, in the Midwest bureau of The Washington Post and currently with The Chicago News Cooperative, specializing in environment, energy, labor and immigration. She is the author of Out of the Sea and Into the Fire: Latin American-US Immigration in the Global Age, Shoot an Iraqi: Art, Life and Resistance Under the Gun, and Revolt on Goose Island: The Chicago Window Factory Takeover and What it Says About the Economic Crisis. She teaches journalism at Columbia College.
RIGHTS INFORMATION:
Please contact subagents for the following languages and territories:
For all other languages/territories, please contact Roam Agency.