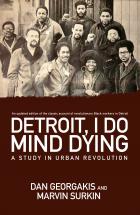 DETROIT: I DO MIND DYING
A Study in Urban Revolution
By Dan Georgakas and Marvin Surkin
Haymarket Books (November 2012, north American English rights)
Trade paper • ISBN-13: 9781608462216 • 5 5/8 x 8 1/2 • US $18 • 250 p.
ABOUT THE BOOK:
Detroit: I Do Mind Dying tracks the extraordinary development of the Dodge Revolutionary Union Movement and the League of Revolutionary Black Workers, as they became two of the landmark political organizations of the 1960s and 1970s. Georgakas and Surkin's account of the movement is widely heralded as one the most important books on the black liberation movement and labor struggles in US history.
PRAISE:
"First-rate and absolutely fascinating. This particular piece of American history has never been covered in such depth … everyone who is concerned with political change will learn a lot from this book."
New York Times
"Detroit: I Do Mind Dying is a beautiful, riveting account of one of the most important radical movements of our century – a movement led by black revolutionaries whose vision of emancipation for all is sorely needed today."
Robin D. G. Kelley
"[T]he insights offered by the League … remain as urgent and relevant today as they were in the 1970s."
H-Net Book Review
"A historical narrative of the single most significant political experience of the 1960's."
Fredrick Jameson
ABOUT THE AUTHORS:
Dan Georgakas is a writer, historian, and activist with a long-time interest in social movements. He co-edited Solidarity Forever: An Oral History of the IWW, Encyclopedia of the American Left, and The Immigrant Left in the United States, and is a longtime editor of Cineaste magazine.
Marvin Surkin is a specialist in comparative urban politics and social change. He conducts workshops on work place and community organizing, urban political economy, and urban renewal in the United States.
RIGHTS INFORMATION:
Languages & Territories Where Rights Have Been Sold:
| Language/Territory | Publisher |
| --- | --- |
| English/United Kingdom | Redwords/Bookmarks |
| French/worldwide | Agone |
Please contact subagents for the following languages and territories:
| Language/Territory | Subagent |
| --- | --- |
| China, Taiwan, Indonesia, Malaysia, and Vietnam | Big Apple Agency |
| English outside North America | David Grossman Literary Agency |
| German | Paul & Peter Fritz AG Literatur Agentur |
| Greek | Read n' Right Agency |
| Hebrew | The Deborah Harris Agency |
| Italian | The Nabu International Literary Agency |
| Japanese | The English Agency (Japan) Ltd |
| Korean | BC Agency, or Korea Copyright Center |
| Portuguese | RIFF Agency |
| Russia/Baltics/Eastern Europe | Prava I Prevodi |
| Scandinavia: Sweden, Norway, Finland, Denmark, Iceland | Brandt New Agency |
| Spanish in Latin America | International Editors' Co., S.A. |
| Spanish in Spain | International Editors' Co., S.A. |
| Turkish | Anatolialit Agency |
For all other languages/territories, please contact Roam Agency.