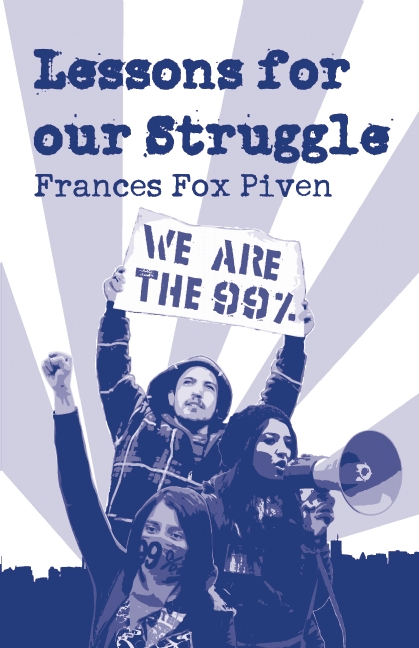 LESSONS FOR OUR STRUGGLE
By Frances Fox Piven
Haymarket Books (October 2012, world English rights)
Saddle-stiched • ISBN-13: 9781608462162 • 5.5 x 8.5 • US $5 • 20 p.
ABOUT THE BOOK:
"We've been at war for decades now – not just in Afghanistan or Iraq, but right here at home. Domestically, it's been a war against the poor, but if you hadn't noticed, that's not surprising. You wouldn't often have found the casualty figures from this particular conflict in your local newspaper or on the nightly TV news. Devastating as it's been, the war against the poor has gone largely unnoticed – until now."
– Frances Fox Piven
In this new pamphlet, Frances Fox Piven writes about the immense possibility and creativity of the Occupy movement, and explores how it can learn from the lessons of past struggles of working and poor people for social change.
PRAISE:
"Piven, throughout her career as an activist and academic, has embodied the best of American democracy. It has been her life's work to amplify the voices of the disenfranchised through voter registration drives, grassroots organization and, when necessary, street protest. The way economic injustice warps and erodes our democracy has been a central preoccupation. But passive lament has never been her game. Recognizing the leverage that oppressed groups have – and working with them to use it – is her special genius."
The Nation
"It is hard to read [Piven] without recognizing that our system, has been historically skewed in favor of more privileged voters and vote influencers."
The New York Review of Books
ABOUT THE AUTHOR:
Frances Fox Piven is on the faculty of the Graduate Center of the City University of New York. She is the author of several books that draw on the social history of the Great Depression, including Regulating the Poor, Poor People's Movements, and Why Americans Still Don't Vote, all co-authored with Richard Cloward. More recently, she has written The War at Home, Challenging Authority: How Ordinary People Change America, and, together with Lorraine Minnite and Margaret Groarke, Keeping the Black Vote Down. Her newest book is Who's Afraid of Frances Fox Piven? She also wrote prefaces to the Haymarket Books reissues of Irvin Bernstein's classic books The Lean Years and The Turbulent Years.
RIGHTS INFORMATION:
Please contact subagents for the following languages and territories:
For all other languages/territories, please contact Roam Agency.