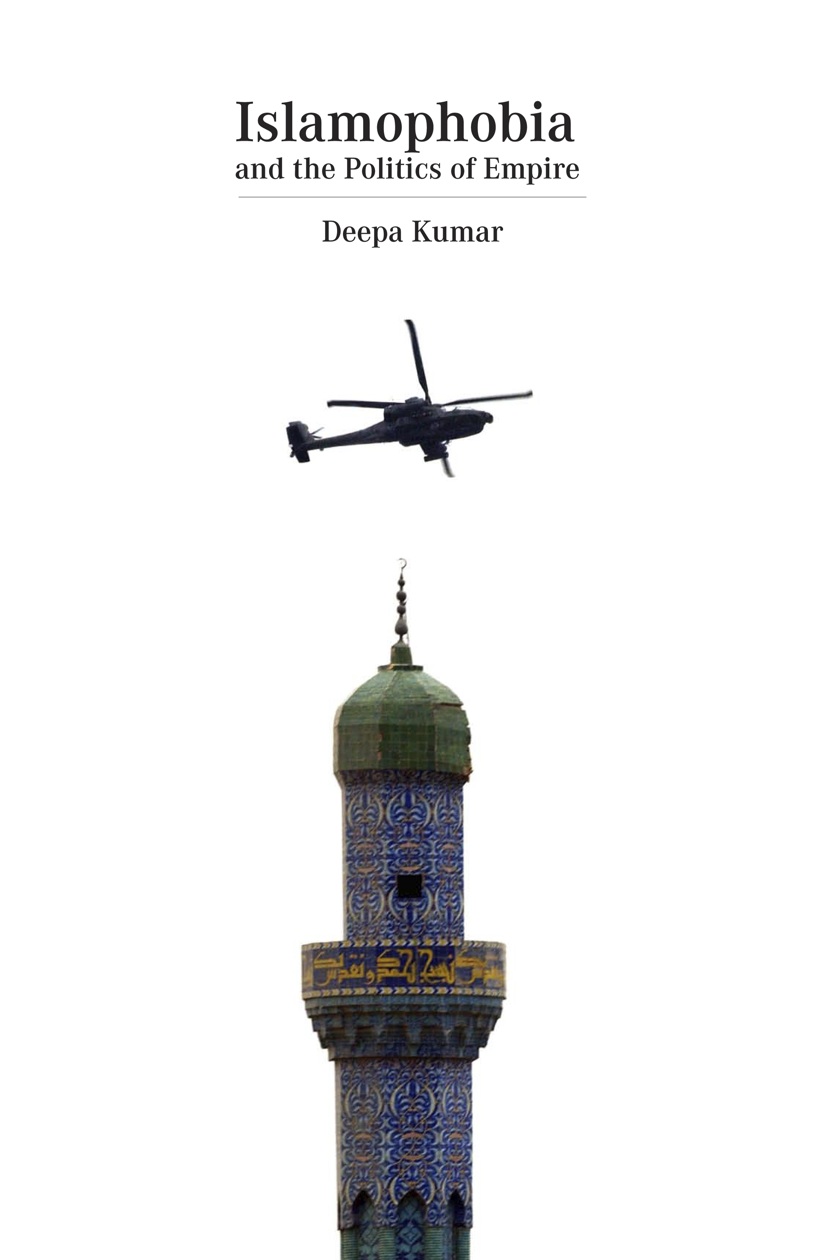 ISLAMOPHOBIA AND THE POLITICS OF EMPIRE
By Deepa Kumar
Haymarket Books (Spring 2012, world English rights)
Trade paper • ISBN-13: 9781608462117 • 5 1/2 x 8 1/2 • US $17 • 220 pgs.
ABOUT THE BOOK:
In response to the events of 9/11, the Bush administration launched a "war on terror," ushering in an era of anti-Muslim racism, or Islamophobia. However, 9/11 did not create the image of the "Muslim enemy." This book examines the historic relationship between anti-Muslim racism and the agenda of empire building.
In this comprehensive book, Kumar begins her analysis in the eleventh century and the context of the Crusades. In prose that is clear and free of jargon, she offers a sweeping historical analysis of the changing views of Islam and Muslims in the West, examining the ways that ruling elites throughout history have used the specter of a "Muslim enemy" to justify their imperial projects.
She then goes on to show how the language of Islamophobia that was developed in the context of the European colonization of Middle East continues to thrive today in the United States. The focus of the book is on the United States; Kumar expertly exposes and debunks various myths about Muslims and Islam which have become widely accepted in the US.
She then analyzes the US's checkered attitude towards the parties of political Islam, outlining how it has treated Islamists as both allies and enemies. By further examining local conditions that have allowed for the growth of Islamists, Kumar shows that these parties are not inevitable in Muslim-majority countries but are rather a contemporary phenomenon similar to the rise of Christian, Jewish, and Hindu fundamentalisms.
The final section of the book sheds light on how the use of Islamophobia in justifying foreign policy necessitates political repression at home. The attacks on Muslim Americans have spread to attacks on dissent in general. Kumar concludes by making a powerful case for a grassroots movement that challenges anti-Muslim racism and the project of empire.
PRAISE:
"This is a timely and crucial book. From historical roots to ideological causes, Islamophobia and the Politics of Empire is studied in a holistic, profound and serious way. The reader will understand why we need to stop being both naive and blind. There will be no peaceful and just future in our democratic societies if we do not fight this new type of dangerous racism."
Tariq Ramadan, Professor of Contemporary Islamic Studies, Oxford University
"Deepa Kumar's Islamophobia and the Politics of Empire could not be more timely. In this deftly argued book, Kumar unearths a genealogy of colonial construction that goes back to the earliest contacts between Muslims and Europeans. But the real power of her argument is when she grabs the politics of ideological domination by the throat and, with an astonishing moral and intellectual force, sets the record straight as to who and what the players are in turning a pathological fear of Muslims into a cornerstone of imperial hegemony. This is a must read on both sides of the Atlantic, where from mass murderers in Europe to military professors at the US military academies are in the business of manufacturing fictive enemies out of their fanciful delusions. Deepa Kumar has performed a vital public service."
Hamid Dabashi, Professor of Iranian Studies and Comparative Literature, Columbia University
"This important book sets out to debunk Orientalist myths in particular that historical encounters between Islam and the West can be understood through a clash of civilizations framework. The author explores the specific historical and political contexts of this relationship from the Crusades to Obama providing a nuanced and extensive analysis. Kumar presents these arguments with a force and passion that is supported by a wealth of evidence. A must for scholars of Islam, social and political science and international relations."
Elizabeth Poole, author of Reporting Islam: Media Representations of British Muslims
"In this remarkable primer Deepa Kumar expertly shows how racism is central to contemporary US imperial politics in ways similar to previous imperial wars, including the one that constituted the United States over the dead bodies of indigenous 'redskins.' An antiracist and antiwar activist, as well as a model scholar-teacher, Kumar has written a comprehensive and most readable guide to exposing and opposing the hatred of Islam."
Gilbert Achcar, Professor of Development Studies & International Relations, School of Oriental and African Studies (SOAS), University of London
"Islamophobia and the Politics of Empire will be indispensable to anyone wanting to understand one of the most persistent forms of racism in the US and Europe. Kumar demonstrates that Islamophobic myths did not arise spontaneously after the end of the Cold War but are rooted in centuries of conquest and colonialism, from the Crusades to the 'War on Terror.' Arguing with precision and clarity, she shows how these myths have been systematically circulated by liberals as much as conservatives, and usefully lays bare the complex ways in which the US foreign policy establishment has, in different contexts, instrumentalized Islamic political movements and exploited anti-Muslim racism. Kumar's text will be a crucial corrective to those who fail to see that the origins of the 'Islam problem' lie in empire not sharia."
Arun Kundnani, author of The End of Tolerance: Racism in 21st Century Britain
"Deepa Kumar's book Islamophobia is powerful, necessary and a true work of solidarity."
Ali Abunimah
"A much-needed handbook on the history of Islamophobia … Crucial as it is for its historical immediacy as an ethical response to fear-mongering, Islamophobia is also an insightful analysis of the workings of a transnational and transhistorical white empire."
Race & Class
ABOUT THE AUTHOR:
Deepa Kumar is an Associate Professor of Media Studies and Middle East Studies at Rutgers University and the author of Outside the Box: Corporate Media, Globalization and the UPS Strike. Kumar has contributed to numerous outlets including the BBC, USA Today, and the Philadelphia Inquirer.
RIGHTS INFORMATION:
Languages & Territories Where Rights Have Been Sold:
Please contact subagents for the following languages and territories:
For all other languages/territories, please contact Roam Agency.