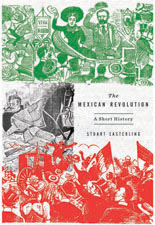 THE MEXICAN REVOLUTION
A Short History, 1910-1920
By Stuart Easterling
Haymarket Books (Fall 2012, world English rights)
Trade paper • ISBN-13: 9781608461820 • 5 1/2 x 7 1/2 • US $16 • 180 pgs.
ABOUT THE BOOK:
Why did the Mexican Revolution happen? What makes it distinctive? Was it even a revolution at all?
More than 100 years since its outbreak in 1910, the Revolution remains the defining event in Mexico's modern history. Yet elements of its history continue to be debated to this day.
Still contested is the issue of who the the winners and losers were: Did the Revolution's heroes – men like Emiliano Zapata and Pancho Villa – accomplish their goals?
This title addresses these questions in an accessible style, aimed at both students and general readers.
PRAISE:
"An excellent account and analysis of the Mexican Revolution, its background, its course, and its legacy. This study combines qualities not usually found in a single volume: erudite and theoretically sophisticated, yet broadly accessible. An important contribution to the study of revolutions in Latin America that is completely jargon free."
Sam Farber, author, Cuba Since the Revolution of 1959: A Critical Assessment
"The Mexican Revolution is a powerful work of historical synthesis. Slicing to the foundational bones of the revolution's dramatic arc, Easterling's precise, surgical narrative offers a remarkably clear rendering of the conflicting class forces at play and the historical personalities brought to life through their encounter. Backdrops of uneven capitalist development and complex configurations of political authority, power, and abuse are overlaid with vivid portraits of the epoch's leading figures – Villa, Zapata, Obregón, and Carranza."
Jeffery R. Webber, Queen Mary, University of London, author, From Rebellion to Reform in Bolivia.
ABOUT THE AUTHOR:
Stuart Easterling is a writer and historian based in Mexico City.
RIGHTS INFORMATION:
Please contact subagents for the following languages and territories:
| Language/Territory | Subagent |
| --- | --- |
| China, Taiwan, Indonesia, Malaysia, and Vietnam | Big Apple Agency |
| English outside North America | David Grossman Literary Agency |
| German | Paul & Peter Fritz AG Literatur Agentur |
| Greek | Read n' Right Agency |
| Hebrew | The Deborah Harris Agency |
| Italian | The Nabu International Literary Agency |
| Japanese | The English Agency (Japan) Ltd |
| Korean | BC Agency, or Korea Copyright Center |
| Portuguese | RIFF Agency |
| Russia/Baltics/Eastern Europe | Prava I Prevodi |
| Scandinavia: Sweden, Norway, Finland, Denmark, Iceland | Brandt New Agency |
| Spanish in Latin America | International Editors' Co., S.A. |
| Spanish in Spain | International Editors' Co., S.A. |
| Turkish | Anatolialit Agency |
For all other languages/territories, please contact Roam Agency.