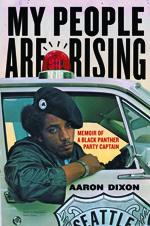 MY PEOPLE ARE RISING
Memoir of a Black Panther Party Captain
By Aaron Dixon
Haymarket Books (2012, world English rights)
Trade paper • ISBN-13: 9781608461783 • 5 1/2 x 8 1/2 • US $17.95 • 384 pgs.
ABOUT THE BOOK:
In an era of stark racial injustice and decisive action, Aaron Dixon dedicated his life to the struggle for change, founding the Seattle chapter of the Black Panther Party in 1968 at age 19. Through his eyes, we see the courage of a generation that stood up to injustice, their political triumphs and tragedies, and the unforgettable legacy of Black Power.
PRAISE:
"This book is a moving memoir experience: a must read. The dramatic life cycle rise of a youthful sixties political revolutionary, my friend Aaron Dixon, who's very family had struggled with earlier life survival against institutionalized racism. And with the murders of Dr. Martin Luther King, Jr., and Little Bobby Hutton two days apart all but set the stage for Aaron to begin the Seattle chapter of the Black Panther Party's protest resistance. A confrontation of resistance that cost the political murder of to many of our party members, but a resistance that included numerous community organizing programs, electoral campaigns and coalition political practices, and then beyond all the positive progressive protest movement efforts that sudden erroneous leadership demise of our Black Panther Party left many such as Aaron with levels of disillusionment. All of which this book biographically chronicles the true meaning of dedication and struggle for human liberation."
Bobby Seale, founding Chairman and National Organizer of the Black Panther Party, 1966-1974
"My People Are Rising: Memoir of a Black Panther Party Captain is the most authentic book ever written by a member of the Black Panther Party. Aaron Dixon does an absolutely superb job of presenting life in the Party from the perspective of a foot soldier – a warrior for the cause of revolutionary change and Black Power in America. He pulls no punches and holds nothing back in writing honestly about those times (late 1960's and during the 1970's) as he successfully presents a visual picture of the courage, commitment, and sometimes, shocking brutality of life as a Panther activist in Seattle, Washington and Oakland, California. This is an unforgettable must read book!"
Larry Gossett, Chair, Metropolitan King County Council
"Aaron Dixon is a courageous, compassionate, and wise freedom fighter whose story of his pioneering work in the Black Panther Party is powerful and poignant. Don't miss it!"
Cornel West
ABOUT THE AUTHOR:
Aaron Dixon, was co-founder and Captain of the Seattle chapter of the Black Panther Party. He has since founded various non-profits for Seattle youth and run as a Green Party candidate in the 2006 Senate race. He lives in Seattle, WA.
RIGHTS INFORMATION:
Audio book:
Please contact subagents for the following languages and territories:
For all other languages/territories, please contact Roam Agency.