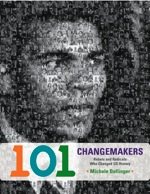 101 REAL CHANGEMAKERS
By Michele Bolinger and Dao X. Tran
Haymarket Books (March 2012, world English rights)
Trade paper • ISBN-13: 9781608461561 • US $19.95 • 5.5 in x 11 in • 210 pgs.
ABOUT THE BOOK:
101 profiles of social justice leaders that changed the world, made accessible for students in grades 3-8.
In the great tradition of Howard Zinn, 101 Real Changemakers offers a "peoples' history" version of the individuals who have shaped our country, for middle school students. In the place of Founding Fathers, Presidents and titans of industry, are profiles of those who courageously fought for social justice in America: Tecumseh, Harriet Tubman, Henry Wallace, Mark Twain, Cesar Chavez, Rachel Carson, Harvey Milk, and many more.
ABOUT THE AUTHORS:
Michele Bollinger is a veteran high school social studies teacher in Washington, DC, whose writing has appeared in the International Socialist Review.
Dao X. Tran is a manuscript editor based in the Bronx, NY. She was active in antiracist and community organizing among Asian Americans and people of color as a youth in Philadelphia. Currently she continues to be involved in progressive and socialist politics and movements, including Take Back/Occupy the Bronx.
RIGHTS INFORMATION:
Please contact subagents for the following languages and territories:
| Language/Territory | Subagent |
| --- | --- |
| China, Taiwan, Indonesia, Malaysia, and Vietnam | Big Apple Agency |
| English outside North America | David Grossman Literary Agency |
| German | Paul & Peter Fritz AG Literatur Agentur |
| Greek | Read n' Right Agency |
| Hebrew | The Deborah Harris Agency |
| Italian | The Nabu International Literary Agency |
| Japanese | The English Agency (Japan) Ltd |
| Korean | BC Agency, or Korea Copyright Center |
| Portuguese | RIFF Agency |
| Russia/Baltics/Eastern Europe | Prava I Prevodi |
| Scandinavia: Sweden, Norway, Finland, Denmark, Iceland | Brandt New Agency |
| Spanish in Latin America | International Editors' Co., S.A. |
| Spanish in Spain | International Editors' Co., S.A. |
| Turkish | Anatolialit Agency |
For all other languages/territories, please contact Roam Agency.