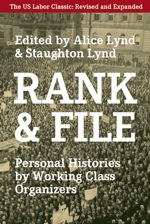 RANK AND FILE
Personal Histories by Working-Class Organizers
By Alice Lynd and Staughton Lynd
Haymarket Books (September 2011, world English rights)
Trade paper • ISBN-13: 9781608461509 • US $20 • 5.5 in x 8.5 in • 326 pgs.
ABOUT THE BOOK:
The trials and tribulations of firebrand union organizers, from the 1930s to the 1970s, are brought to life here in their own words.
Stories of dozens of working-class heroes are chronicled in this long out-of-print oral history classic. From founding unions, to responding to sexism, safety violations, and fear in the ranks, Rank and File brings the militancy of union organizers, across six decades, to life.
PRAISE:
"A skillful compilation of interviews with working-class organizers … not just an oral history but a chronicle of modern political events ignored in mainstream labor history and journalistic commentary. The value lies in what it will tell future generations about today."
History Workshop Journal
"One of the best works of oral history produced by radical historians. … For readers who want to see an alternative view to official trade union history, in which labor leaders take the center stage, Rank and File is the place to begin. These personal histories of rank and file organizers show how ordinary working-class men and women made their own history."
The Nation
"The stories, which are replete with heroism, doubledealing, hope, and suffering, make a vital contribution to an understanding of American labor's struggle for recognition and united strength."
Library Journal
"The first serious installment in … radical labor history."
Labor History
ABOUT THE AUTHORS:
Alice and Staughton Lynd are retired labor lawyers and writers who have co-edited Homeland: Oral Histories of Palestine and Palestinians and Nonviolence in America: A Documentary History. Together, they served as co-counsel in a major class action that went to the United States Supreme Court, Wilkinson vs. Austin. Now being applied in other states, their case established procedural standards for prisoners in supermax prisons. The Lynds have three children and seven grandchildren, and are based in Youngstown, Ohio. As a labor lawyer, Alice helped organize unions and assist workers in obtaining benefits, along with litigating employment discrimination cases. Before entering law, Staughton taught American history at Spellman College and Yale University. Staughton also served as director of Freedom Schools in the Mississippi Summer Project in 1964 and later chaired the first march against the Vietnam War in Washington DC. Staughton is the coauthor of Wobblies and Zapatistas: Conversations on Anarchism, Marxism and Radical History and the author of Lucasville: The Untold Story Of A Prison Uprising, along with numerous other books.
RIGHTS INFORMATION:
Audio book:
Please contact subagents for the following languages and territories:
For all other languages/territories, please contact Roam Agency.