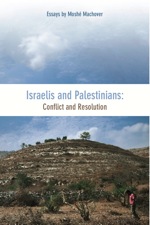 ISRAELIS AND PALESTINIANS
Conflict and Resolution
By Moshé Machover
Haymarket Books (November 2011, world English rights)
Trade paper • ISBN-13: 9781608461486 • US $24 • 5.5 in x 8.5 in • 300 pgs.
ABOUT THE BOOK:
Collected here are the essays of lifelong activist Moshé Machover, written as an Israeli socialist in solidarity with the Palestinian people. Comprising analysis and polemics, these essays cover diverse aspects of the Israeli-Palestinian conflict and Israeli society. Two inter-related themes run throughout: the Israeli-Palestinian conflict in a regional context, and the connection between Palestinian liberation and the struggle for socialism.
PRAISE:
"This collection of Moshé Machover's writings from the mid-1960s to today brings together a coherent and consistent vision of Zionist colonialism and the dispossession and discrimination which have been its hallmarks throughout the whole period. Machover is a veteran Marxist academic, activist, writer, whose writing is uncompromising in facing the grim realities of his area. It is a valuable book in its historical reach, accessible style, and forthright debunking of the 'peace process' and other lazy myths, and also for the book review section in which he points readers forward to essential further reading on the subject, such as Greg Philo and Mike Berry's Bad News from Israel, and Shlomo Sands' The Invention of the Jewish People."
Victoria Brittain, former associate foreign editor of the Guardian. Her books include Hidden Lives, Hidden Deaths and Death of Dignity.
"Moshé Machover has been consistent in his belief that socialism provides the best framework for the organization of human affairs and this governs his perspective on the Arab-Israeli conflict. While many have internalized the nation state as the most sublime form of social and political organization, he remains undaunted in his rejection of nationalism. He unflinchingly declares that he is no peace activist, and that only a socialist transformation in the Arab Mashrik can bring about peace and an equitable social and political order to the the peoples of the region."
Musa Budeiri, author of The Palestine Communist Party, 1919-1948: Arab and Jew in the Struggle for Internationalism; Program in Democracy and Human Rights at the Faculty of Graduate Studies at Birzeit University.
ABOUT THE AUTHOR:
Moshé Machover is an Israeli mathematician and lifelong socialist activist. He lives in London.
RIGHTS INFORMATION:
Please contact subagents for the following languages and territories:
For all other languages/territories, please contact Roam Agency.