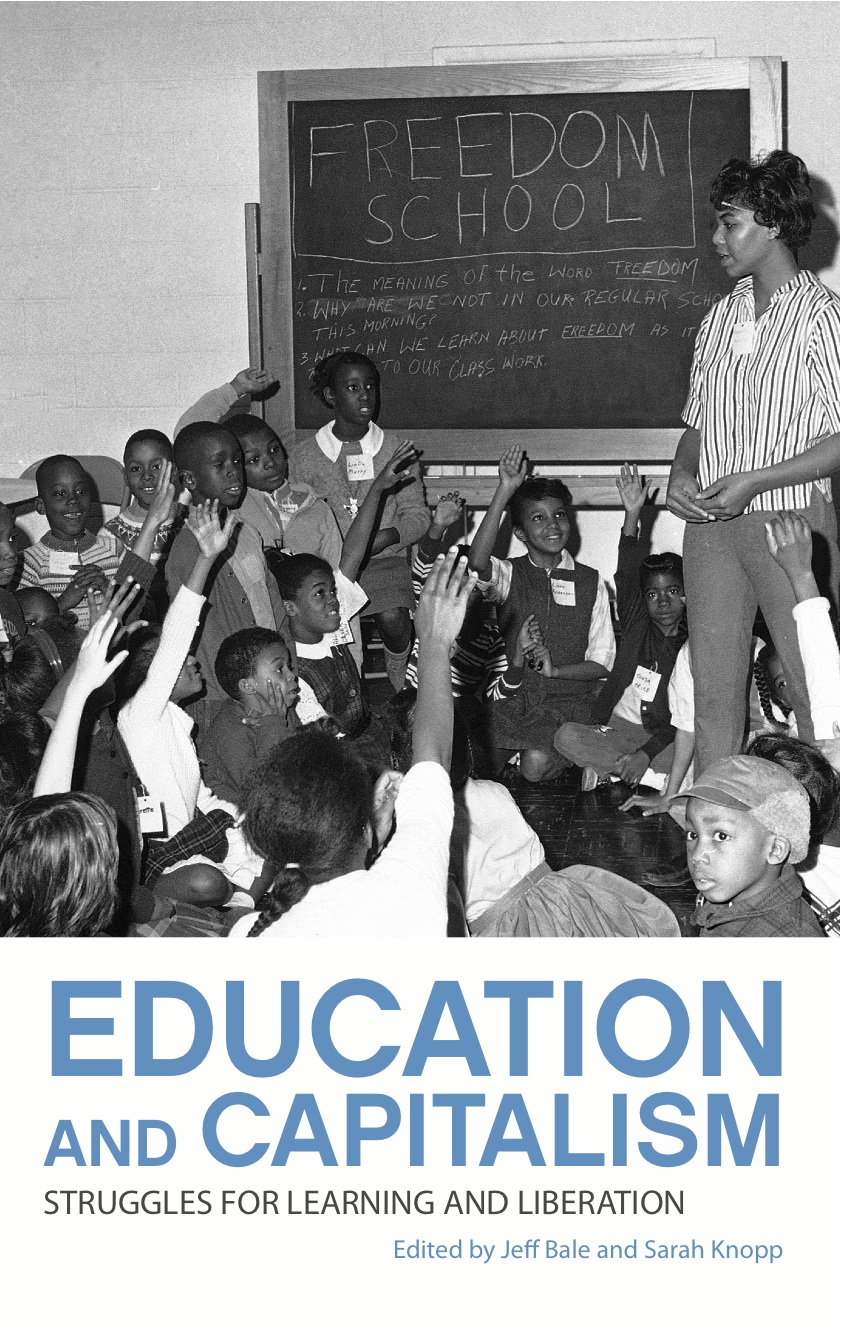 EDUCATION AND CAPITALISM
Struggles for Learning and Liberation
Edited by Jeff Bale and Sarah Knopp
Foreword by Bill Bigelow of Rethinking Schools
Haymarket Books (Fall 2011, world English rights)
Trade paper • ISBN-13: 9781608461479 • US $17 • 5.5 in x 8.5 in • 220 pgs.
ABOUT THE BOOK:
Based on their own experiences, teachers across the country offer ideas on resolving the crisis in education.
The conservative, bipartisan consensus dominating the discussion about what's wrong with our schools and how to fix them offers "solutions" that scapegoat teachers, vilify unions, and promise market mentality as the answer. But, in each case, students lose. This book, written by teacher activists, speaks back to the elite consensus and offers an alternative vision of learning for liberation.
Contributors: Jeff Bale, Sarah Knopp, Rose Aguilar, Bill Bigelow, Megan Behrent, Michele Bollinger, John T. Green, Jesse Hagopian, Adrienne Johnstone, Brian Jones, Jessie Muldoon, Gillian Russom, Adam Sanchez, Elizabeth Terzakis, and Keeanga-Yamahtta Taylor.
ABOUT THE EDITORS:
Jeff Bale is Associate Professor of Language and Literacies Education Department of Teaching, Curriculum, and Learning Ontario Institute for Studies in Education University of Toronto.
Sarah Knopp is a public high school teacher in Los Angeles, and an activist in the United Teachers of Los Angeles (UTLA).
Their work has appeared in Rethinking Schools, International Socialist Review, and Counterpunch.
RIGHTS INFORMATION:
Please contact subagents for the following languages and territories:
| Language/Territory | Subagent |
| --- | --- |
| China, Taiwan, Indonesia, Malaysia, and Vietnam | Big Apple Agency |
| English outside North America | David Grossman Literary Agency |
| German | Paul & Peter Fritz AG Literatur Agentur |
| Greek | Read n' Right Agency |
| Hebrew | The Deborah Harris Agency |
| Italian | The Nabu International Literary Agency |
| Japanese | The English Agency (Japan) Ltd |
| Korean | BC Agency, or Korea Copyright Center |
| Portuguese | RIFF Agency |
| Russia/Baltics/Eastern Europe | Prava I Prevodi |
| Scandinavia: Sweden, Norway, Finland, Denmark, Iceland | Brandt New Agency |
| Spanish in Latin America | International Editors' Co., S.A. |
| Spanish in Spain | International Editors' Co., S.A. |
| Turkish | Anatolialit Agency |
For all other languages/territories, please contact Roam Agency.