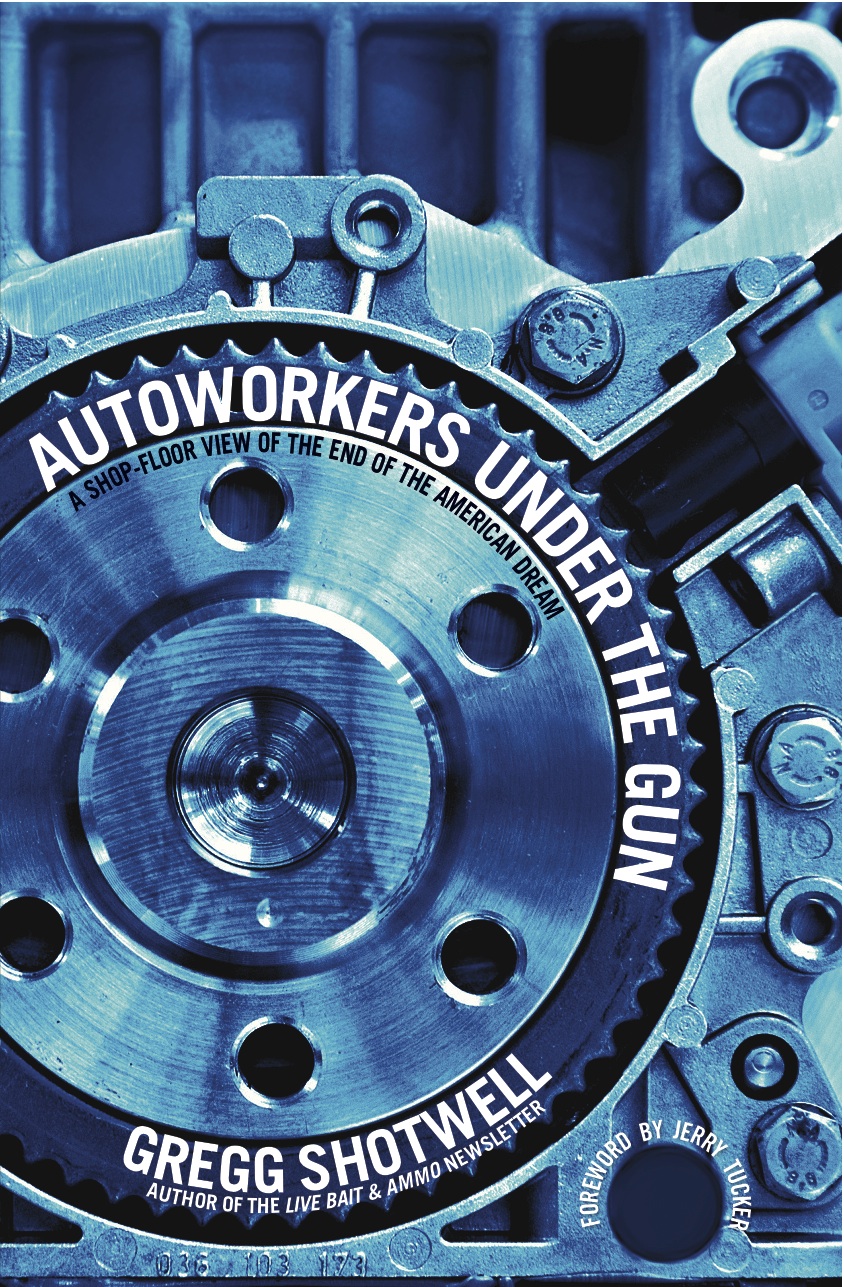 AUTOWORKERS UNDER THE GUN
By Greg Shotwell
Introduction by Lee Sustar
Haymarket Books (March 2012, world English rights)
Trade paper • ISBN-13: 9781608461424 • US $17 • 5.5 in x 8.5 in • 200 pgs.
ABOUT THE BOOK:
"Workers' rights are not defined by law or contract. Workers' rights are defined by struggle."
In an industry under constant attack, a veteran autoworker offers his take on the collapse of the American Dream. These biting shop-floor bulletins chronicle a decade of autoworker resistance to ever-expanding concessions pressured upon them by union bureaucrats and company men alike. Offering a take-down of both the union-management partnership approach and the "bankruptcy as a business plan," Autoworkers Under the Gun summons a rank-and-file call to action for a new generation crashing the gates of recession-racked American Dream.
ABOUT THE AUTHOR:
Gregg Shotwell, a machine operator turned rebel writer, worked 30 years at General Motors. His shop-floor fliers grew legs of their own, distributed by rank-and-filers and cited by auto industry analysts.
RIGHTS INFORMATION:
Please contact subagents for the following languages and territories:
| Language/Territory | Subagent |
| --- | --- |
| China, Taiwan, Indonesia, Malaysia, and Vietnam | Big Apple Agency |
| English outside North America | David Grossman Literary Agency |
| German | Paul & Peter Fritz AG Literatur Agentur |
| Greek | Read n' Right Agency |
| Hebrew | The Deborah Harris Agency |
| Italian | The Nabu International Literary Agency |
| Japanese | The English Agency (Japan) Ltd |
| Korean | BC Agency, or Korea Copyright Center |
| Portuguese | RIFF Agency |
| Russia/Baltics/Eastern Europe | Prava I Prevodi |
| Scandinavia: Sweden, Norway, Finland, Denmark, Iceland | Brandt New Agency |
| Spanish in Latin America | International Editors' Co., S.A. |
| Spanish in Spain | International Editors' Co., S.A. |
| Turkish | Anatolialit Agency |
For all other languages/territories, please contact Roam Agency.