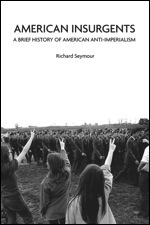 AMERICAN INSURGENTS
A Brief History of Anti-Imperialism in the U.S.
By Richard Seymour
Haymarket Books (Fall 2011, world English rights)
Trade paper • ISBN-13: 9781608461417 • US $17 • 5 1/4 in x 8 3/8 in • 230 pgs.
ABOUT THE BOOK:
From Mark Twain, to the movement against the war in Vietnam, this is the story of ordinary Americans challenging empire.
All empires spin self-serving myths, and in the U.S. the most potent of these is that America is a force for democracy around the world. Yet there is a tradition of American anti-imperialism which gives the lie to this mythology. Seymour examines this complex relationship from the Revolution to the present-day.
PRAISE:
"Seymour's obsessively researched, impressive first book holds its place as the most authoritative historical analysis of its kind."
Resurgence
ABOUT THE AUTHOR:
Richard Seymour is a socialist writer and runs the blog Lenin's Tomb. He is the author of The Liberal Defense of Murder. His articles have appeared in the Guardian and New Statesman.
RIGHTS INFORMATION:
Please contact subagents for the following languages and territories:
For all other languages/territories, please contact Roam Agency.