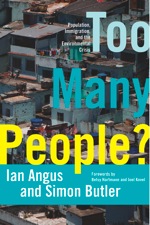 TOO MANY PEOPLE?
By Ian Angus and Simon Butler
Haymarket Books (Fall 2011, world English rights)
Trade paper • ISBN-13: 9781608461400 • US $19 • 5.5 in x 8.5 in • 280 pgs.
ABOUT THE BOOK:
Too Many People? provides a clear, well-documented and popularly written refutation of the idea that "overpopulation" is a major cause of environmental destruction, arguing that a focus on human numbers not only misunderstands the causes of the crisis, it dangerously weakens the movement for real solutions.
No other book challenges modern overpopulation theory so clearly and comprehensively, providing invaluable insights for activists and environmental scholars alike.
PRAISE:
"With clear prose and careful, cogent analysis, Angus and Butler provide the tools necessary to dismantle the myth of overpopulation step by step. In so doing, they also show the way to a more hopeful, justice-centered environmental and reproductive politics. Like the excellent publications they edit, Climate and Capitalism and Green Left Weekly, this book makes complex information, ideas and arguments accessible to a wide variety of readers — activists, students, educators, journalists, policymakers and indeed anyone who wants to better understand the world."
Betsy Hartmann, director of the Population and Development Program and professor of Development Studies, Hampshire College
"This excellent book is steadfast in its refutations of the flabby, misogynist and sometimes racist thinking that population growth catastrophists use to peddle their claims. It's just the thing to send populationists scurrying back to their bunkers."
Raj Patel, author of Stuffed and Starved
ABOUT THE AUTHORS:
Ian Angus is editor of the ecosocialist journal Climate and Capitalism.
Simon Butler is co-editor of Green Left Weekly.
RIGHTS INFORMATION:
Languages & Territories Where Rights Have Been Sold:
Please contact subagents for the following languages and territories:
For all other languages/territories, please contact Roam Agency.