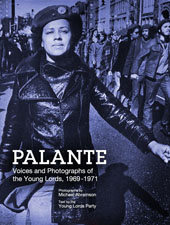 PALANTE
Voices and Photographs of the Young Lords, 1969-1971
Photographs by Michael Abramson
Text by the Young Lords Party
With a new foreword by Iris Morales
Haymarket Books (2011, world English rights)
Trade Paper • ISBN-13: 9781608461295 • US $24.95 • 8.5 in x 11 in • 160 pgs. • 75 B&W photos
ABOUT THE BOOK:
Palante is the first book about the Young Lords. Through photographs, essays, and interviews with members, the book captures the spirit and actions of the sixties' movements.
The Young Lords fought for the rights of Puerto Ricans in the United States and for the independence of Puerto Rico. Puerto Rican and Latino activists founded the Young Lords Organization in Chicago in 1968, taking inspiration from the Black Panther Party and other national liberation movements across the world. In July 1969, a Young Lords chapter was formed in New York, and it became the Young Lords Party (YLP). They expressed their political beliefs in a13-point program, published and distributed a newspaper called Palante, and produced a weekly radio show on WBAI also called "Palante."
The YLP focused on community issues from the lack of affordable housing to police brutality and organized street garbage clean ups, "serve the people programs," and door-to-door health testing for tuberculosis and lead poisoning. Through dramatic takeovers of institutions — such as The People's Church and Lincoln hospital — and mass mobilizations, the YLP brought media and public attention to the socio-economic and political situation of people of color in the United States and to the colonial status of Puerto Rico.
PRAISE:
"Palante is an indispensable source for learning about the history of the Young Lords and the ways in which this remarkable grassroots organization inspired and engaged a whole generation of Puerto Rican youth in New York and other U.S. cities during the 1970s to struggle for social and racial justice, for improving living conditions in their neglected communities, and for the liberation of Puerto Rico from its colonial bondage. Through the voices of several members who were part of the Young Lords' leadership and the keen photographic eye of Michael Abramson, this new edition of Palante reaffirms the power of political engagement and collective action in promoting social change. An added foreword by Iris Morales producer and director of the documentary film, ¡Palante, Siempre Palante! (1996), enriches this long-awaited new edition of Palante. In it, Morales provides a compelling, honest, and balanced assessment of the Young Lords' vision, accomplishments, challenges, and the multiple factors that contributed to the Young Lords' eventual demise. Palante is a classic publication that guarantees that the historical memory of the past struggles of the Puerto Rican civil rights movement and what has been learned from it, will remain as an inspiration to future generations of Puerto Ricans in their own quests for empowerment, human dignity, and a more equitable society."
Edna Acosta-Belén, Distinguished Professor, University at Albany, SUNY
ABOUT THE AUTHORS:
Michael Abramson is a graduate of Kenyon College and the University of Chicago, and — since 2009 — a bona fide inventor. In his more than 25-year career as a photojournalist for Time-Life and others, he has photographed a wide range of subjects — from deaf street gangs to American presidents — and has traveled the world. His book credits include Our Portion of Hell, Inside Las Vegas (text by Mario Puzo), Amy: The Story of Deaf Child, and Roy Lichtenstein: The Artist at Work. He recently finished his first novel, a future set political thriller entitled Rebecca Tree.
Iris Morales is an activist, educator, media producer, author, and attorney. Her lifelong commitment to social justice is inspired by the Puerto Rican peoples' struggles for equality and self-determination as well as by the community's vibrant contributions in arts and politics. A member of the Young Lords for five years, she rose through the ranks to become Deputy Minister of Education and leader of the Women's Union. ¡Palante, Siempre Palante! The Young Lords, her award-winning documentary, was broadcast on national public television and continues to screened in schools, universities and community venues across the United States.
RIGHTS INFORMATION:
Please contact subagents for the following languages and territories:
| Language/Territory | Subagent |
| --- | --- |
| China, Taiwan, Indonesia, Malaysia, and Vietnam | Big Apple Agency |
| English outside North America | David Grossman Literary Agency |
| German | Paul & Peter Fritz AG Literatur Agentur |
| Greek | Read n' Right Agency |
| Hebrew | The Deborah Harris Agency |
| Italian | The Nabu International Literary Agency |
| Japanese | The English Agency (Japan) Ltd |
| Korean | BC Agency, or Korea Copyright Center |
| Portuguese | RIFF Agency |
| Russia/Baltics/Eastern Europe | Prava I Prevodi |
| Scandinavia: Sweden, Norway, Finland, Denmark, Iceland | Brandt New Agency |
| Spanish in Latin America | International Editors' Co., S.A. |
| Spanish in Spain | International Editors' Co., S.A. |
| Turkish | Anatolialit Agency |
For all other languages/territories, please contact Roam Agency.