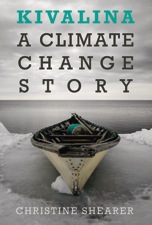 KIVALINA
A Climate Change Story
By Christine Shearer
Haymarket Books (July 2011, world English rights)
Trade Paper • ISBN-13: 9781608461288 • US $16 • 5 1/4 in x 7 7/8 in • 240 pgs.
ABOUT THE BOOK:
While corporate funded scientists continue their effort to spread doubt about global climate change, for one native village in Alaska the price of further denial could be the complete devastation of their homes and culture. Kivalina must be relocated to survive, but neither the oil giants nor the government have proven willing to take responsibility.
PRAISE:
"Best Book of 2011: Kivalina: A Climate Change Story … [Shearer's] extraordinary chronicle of a native Alaskan village's demise and inevitable relocation due to climate changes, a breakthrough lawsuit for accountability, and the harrowing legacy of misinformation and deceit by multinational corporations ranks as one of the most timely and important books to be published in 2011 – and in the past decade. Written with the verve of an investigative journalist and the insight of a scholar, Kivalina should be required reading for all power brokers in the climate change debate."
Jeff Biggers, Huffington Post
"Christine Shearer's Kivalina: A Climate Change Story is a fast and bumpy ride that begins with the history of outrageous corporate deceptions through public relations and legal campaigns, continuing with building of the coal-and-oil empire to fuel progress in the United States, leading to the horrendous politics of climate crisis, and fi nally arriving at its destination, a ground-zero of climate refugee, Kivalina — an Inupiat community along the Chukchi Sea coast of arctic Alaska. I was angry when I turned the last page. I urge you to get a copy, read it, share the story, and join the now global climate justice movement."
Subhankar Banerjee, photographer, writer, activist, and author of Arctic National Wildlife Refuge: Seasons of Life and Land
"This story is a tragedy, and not just because of what's happening to the people of Kivalina. It's a tragedy because it's unnecessary, the product, as the author shows, of calculation, deception, manipulation, and greed in some of the biggest and richest companies on earth."
Bill McKibben, author Earth: Making a Life on a Tough New Planet
"Shearer pulls no punches in this extraordinary account of one Alaskan village's confrontation with the violence of climate change…. The casualties are adding up and they include public health, ecosystems, and our democracy. So where is the hope in all of this? It lies in the simple fact that the people of Kivalina fought back and struggled for a better world for themselves and for all of us."
David N. Pellow, author, Resisting Global Toxics, board of directors, Greenpeace USA
"The climate catastrophe is real and growing, and this is the story of some of its first known victims, with many millions more to follow. This is an important tale of greed and propaganda, scientific corruption, and the bill coming due for our allowing a corporate elite to control and dictate our energy and environmental policies."
John Stauber, founder, Center for Media and Democracy
"The Inupiat are not responsible for the greenhouse gases that cause climate change, and they are determined not to be its victims. … They are fighting for our future."
Al Gedicks, author, Resource Rebels
"Kivalina is a harbinger of what our failure to control our technology and our greed will be bringing to coastal communities and cities across the planet."
Robert Gramling, coauthor, Blowout in the Gulf
"Shearer, a journalist and academic educated in sociology, tells a moving, infuriating, ominous story of a remote Alaskan Native community's struggle to relocate its village, Kivalina, which is being lost to flooding and erosion due to climate change-induced melting permafrost and retreating sea ice. Kivalina's residents originally moved to this narrow island in the early 20th century, when the U.S. government ordered them to settle permanently on the island or face imprisonment. The villagers, who 'are able to survive in the harsh Arctic region through an understanding of and close connection to the cycles and rhythms of the land,' first noticed erosion of the island in the 1950s, voted to relocate in 1992, and chose a new site by 1998. Their attempts to relocate were frustrated by U.S. agencies who contradicted their knowledge of the area, so the community filed a climate change lawsuit. Shearer provides an impressively concise and comprehensive history of the growth of corporate power in America; its influence on, entwinement with, and corruption of government; corporate obfuscation of industrial hazards, culminating in the fossil fuel industry's frighteningly successful campaign to prevent regulatory action on increasingly confirmed global warming; and the cultural disconnect between Native Alaskans and American agencies whose clumsy, often patronizing management of Kivalina's dire situation has only exacerbated the community's problem."
Publishers Weekly
"Shearer presents the human and environmental evidence of frustration and devastation of this ancient Inupiat Eskimo village in a detailed and compelling fashion."
Harvard Ayers, professor emeritus, anthropology, Appalachian State University
ABOUT THE AUTHOR:
Christine Shearer is a writer, journalist, activist, and academic. She is the environment and ecology editor of EconomyWatch, and Managing Editor of the online progressive magazine Conducive. She is also a contributor to Coalswarm, part of the online corporate watch website Sourcewatch.
RIGHTS INFORMATION:
Please contact subagents for the following languages and territories:
For all other languages/territories, please contact Roam Agency.