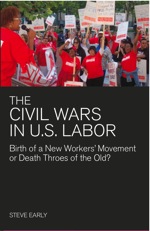 The Civil Wars in U.S. Labor
Birth of a New Workers' Movement or Death Throes of the Old?
By Steve Early
Haymarket Books (North American English rights, February 2011)
Paper • ISBN-13: 9781608460991 • $17
ABOUT THE BOOK:
In 2008-10, the progressive wing of U.S. labor tore itself apart in a series of internecine struggles. More than $100 million was expended, by all sides, on ill-timed organizing conflicts that tarnished union reputations and undermined the campaign for real health care and labor law reform. Campus and community allies, along with many rank-and-file union members, were left angered and dismayed.
In his second book, labor journalist Steve Early draws on his own union organizing experience to explain why and how these labor civil wars occurred. Early examines the bitter disputes about union structure, membership rights, organizing strategy, and contract standards that enveloped SEIU, UNITE HERE, the California Nurses Association, and independent organizations like the Federacion de Maestros de Puerto Rico and the new National Union of Healthcare Workers in California.
Early's timely and informed reporting draws on scores of interviews (and first-hand involvement) with many of the combatants and their non-labor supporters. We meet rank-and-file activists-both dissidents and loyalists–local union officers, national leaders from Change To Win and AFL-CIO affiliates, and concerned friends of labor. In the words of ILWU Organizing Director Peter Olney, "Early's journalism is powerful because he has been in the trenches himself fighting to organize workers and make unions more democratic for four decades. This book is a must read, particularly for young activists trying make sense of contemporary American trade unionism."
PRAISE:
"Steve Early's account of recent troubles within and between progressive unions is an engaging and original work. Early is the most tenacious, free-thinking journalist covering labor today, respected by friend and foe alike. Civil Wars is essential to understanding how union centralization and top-down control have failed as a strategy for revitalizing the labor movement."
Immanuel Ness, professor, Brooklyn College, CUNY, editor of WorkingUSA and author of Immigrants, Unions and the New U.S. Labor Movement
"Civil Wars in U.S. Labor is a passionate, thoroughly researched indictment of recent misdeeds by one of America's largest and most important unions, the Service Employees International Union. It's also a cri de coeur for union democracy, not just in principle or as a fine sentiment, but in highly practical ways that are illustrated throughout this rigorously argued book. Anyone who cares about the future of American labor should read (and study) this 21st-century J'accuse!"
Jack Metzgar, professor emeritus, Roosevelt University and author of Striking Steel
"Steve Early is not just another scholar situated outside the labor movement. For more than thirty years, he helped do the hard work of organizing and collective bargaining. Civil Wars demonstrates that there is no one with a better understanding of contemporary union problems. When he warns about the dangers of undemocratic practices, sweetheart deals with employers, and over reliance on the Democratic Party, we had better listen."
Michael Yates, associate editor of Monthly Review and author of Why Unions Matter
"Steve Early's book describes the kind of anti-union campaigning by management that makes passage of the Employee Free Choice Act so necessary. Early's account of how and why labor law reform has been stalled for the third time in the last 32 years should be required reading for all workers' rights advocates. As the author notes, collective bargaining faces private sector extinction. To protect the right to organize, we still need changes in the Wagner Act itself – not just better appointments to the NLRB."
Bernie Sanders, United States Senator
ABOUT THE AUTHOR:
Steve Early worked as a national staff member of the Communications Workers of America for 27 years. He is the author of Embedded With Organized Labor (Monthly Review Press, 2009) and a widely-published free-lance writer..
RIGHTS INFORMATION:
Please contact subagents for the following languages and territories:
For all other languages/territories, please contact Roam Agency.