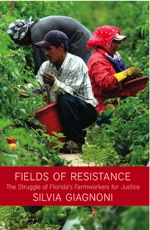 FIELDS OF RESISTANCE
The Struggle of Florida's Agricultural Workers for Justice
By Silvia Giagnoni
Haymarket Books (2011, world English rights)
Trade paper • ISBN-13: 9781608460939 • 5.5 x 8.5 • 260 pgs.
ABOUT THE BOOK:
Migrant farmworkers are still routinely exploited, and in many cases held against their will in conditions of modern slavery. Yet in one Florida town, these workers have organized the Coalition of Immokalee Workers and launched a nation wide campaign to expose their inhuman working conditions that ultimately succeeded in bringing the biggest fast-food giants to their knees.
ABOUT THE AUTHOR:
Silvia Giagnoni is Assistant Professor in the Department of Communication and Dramatic Arts at Auburn University Montgomery. She has published (both in English and in Italian) journalistic and scholarly articles on popular music, film, and social movements.
RIGHTS INFORMATION:
Please contact subagents for the following languages and territories:
For all other languages/territories, please contact Roam Agency.