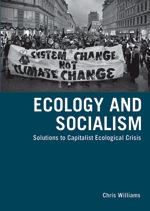 ECOLOGY AND SOCIALISM
Solutions to Capitalist Ecological Crisis
By Chris Williams
Haymarket Books (August 2010, world English rights)
Trade paper • ISBN-13: 9781608460915 • 5 x 7 • 220 pgs.
ABOUT THE BOOK:
A timely, well grounded analysis that reveals an inconvenient truth: we can't save capitalism and save the planet.
As global temperatures rise, and polar bears continue to drown due to melting arctic ice, there has emerged a growing chorus of voices crying out to save the planet. Yet the harsh reality ignored by pundits and policy makers is that capitalism stands as the most intractable obstacle in the way of the changes that could avert ecological devastation.
Consciousness of the threat to our environment is growing, yet he majority of solutions on offer, from using efficient light bulbs to biking to work, focus on individual lifestyle changes, yet the scale of the crisis requires far deeper changes. Time still remains to save the planet, but only by building social movements for environmental justice that can demand qualitative changes.
PRAISE:
"Ecology and Socialism exposes the real roots of the ecological crisis: a global economic and social system that always puts profits before people. This book is more than essential reading – it is apowerful weapon in the fight to save our planet."
Ian Angus, editor climateandcapitalism.com
"Finally, a book that bridges the best of the scholarly and activist literatures in socialist ecology! Sophisticated and compelling, eschewing academic jargons 'post-modern' and otherwise, Ecology and Socialism more than competently champions a Marxist approach to environmental crisis and the kind of economic democracy needed to achieve an ecologically friendly system of production and human development."
Paul Burkett, author of Marx and Nature: A Red and Green Perspective
"Chris Williams has written an exhaustively researched book that explores how the climate crisis is an outgrowth of our political economy. Our planet is in peril, but the solution is not technological, it is social. This book should gain the attention of many sociologists as Williams brings the problem of climate change to our doorstep, aiming to articulate the relationship between capitalism and the environment. The text moves deftly from a discussion of the science behind climate change to the social and political processes that are fueling this planetary crisis. The book draws on the most current climate change science. One of the features of this book that makes its contribution especially unique is the translation of the science of climate change to lay- person's terms. Williams takes us through scientific, political, sociological, and philosophical terrain. Williams' text is prescient in the sense that climate change will eventually bring us to question all areas of social life, namely capitalism, technology, and material productions.
Perhaps the greatest insight in the text is that our public 'green' discourse has misunderstood climate change as a technological problem with technological solutions, and as an individual problem with individual solutions. Williams crafts the entire text around this single point: climate change is a problem that stems from our economic system. Thus, solving the problem requires economic change. The green movement has taken a deadly wrong turn by focusing on individual responsibility and technological solutions. This brand of individualism is an extension of a neoliberal agenda, which conceals the reality that capitalism itself is the problem. …
This tremendous, well-written, urgent and persuasive book offers the paradigm shift needed to turn the green movement toward real systemic change."
Sociological Inquiry
ABOUT THE AUTHOR:
Chris Williams is a long-time environmental activist and Vice President of the Union of Adjunct Faculty at Pace University, where he teaches course in energy and the environment, physics, and chemistry. He is also the chair of the science dept at Packer Collegiate Institute.
RIGHTS INFORMATION:
Languages & Territories Where Rights Have Been Sold:
| Language/Territory | Publisher |
| --- | --- |
| Mayalam/worldwide | DC Books |
Please contact subagents for the following languages and territories:
For all other languages/territories, please contact Roam Agency.