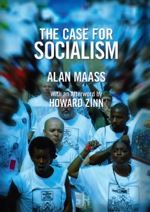 THE CASE FOR SOCIALISM (updated edition)
By Alan Maass
Afterword by Howard Zinn
Haymarket Books (April 2010, world English rights)
Paper • ISBN-13: 9781608460731 • US $12 • 5 in x 7 in • 160 pgs.
ABOUT THE BOOK:
Growing numbers of people are disgusted by the disaster of poverty, war, oppression, and environmental destruction caused by global capitalism. But is there an alternative? Author Alan Maass argues that socialism — a democratically planned economy based on workers' control — is rational, necessary, and possible. With an afterword by Howard Zinn.
PRAISE:
"Amid the wreckage of the Bush/Clinton/Bush imperium, many leftists have surrendered to a kind of smug fatalism, content to be sideline critics of the machine. Not Alan Maass. In vivid and urgent prose, he chronicles the grotesque depredations of the neolibs and neocons alike, then gets down to the real work of illuminating a path out of the sucking abyss. His book charts a game plan for realistic radicals, who haven't given up hope for making revolutionary changes in a society that finds itself in the grip of a remorseless political entropy. Take cheer: History isn't over. In fact, it's hardly even begun for us. Read Maass. Then go out and make some."
Jeffrey St. Clair, co-editor of CounterPunch
ABOUT THE AUTHOR:
Alan Maass, is the editor of the popular international website http://www.socialistworker.org/.
RIGHTS INFORMATION:
Languages & Territories Where Rights Have Been Sold:
| Language/Territory | Publisher |
| --- | --- |
| Korean/worldwide | Chaekgalpi |
Please contact subagents for the following languages and territories:
| Language/Territory | Subagent |
| --- | --- |
| China, Taiwan, Indonesia, Malaysia, and Vietnam | Big Apple Agency |
| English outside North America | David Grossman Literary Agency |
| German | Paul & Peter Fritz AG Literatur Agentur |
| Greek | Read n' Right Agency |
| Hebrew | The Deborah Harris Agency |
| Italian | The Nabu International Literary Agency |
| Japanese | The English Agency (Japan) Ltd |
| Korean | BC Agency, or Korea Copyright Center |
| Portuguese | RIFF Agency |
| Russia/Baltics/Eastern Europe | Prava I Prevodi |
| Scandinavia: Sweden, Norway, Finland, Denmark, Iceland | Brandt New Agency |
| Spanish in Latin America | International Editors' Co., S.A. |
| Spanish in Spain | International Editors' Co., S.A. |
| Turkish | Anatolialit Agency |
For all other languages/territories, please contact Roam Agency.