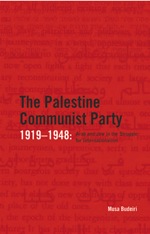 THE PALESTINIAN COMMUNIST PARTY, 1919-1948
Arab and Jew in the Struggle for Internationalism
By Musa Budeiri
Haymarket Books (June 2010, world English rights)
Paper • ISBN-13: 9781608460724 • US $18 • 5.5 in x 8.25 in • 304 pgs.
ABOUT THE BOOK:
This history of the Palestinian Communist Party upends the caricature of the Israeli-Palestinian conflict as an ancient religious blood feud. Musa Budeiri shows how the complex history of the Palestinian Left before the Zionist destruction of historic Palestine was defined by secularism and solidarity between Arab and Jewish workers. With a new introduction and afterword by the author.
ABOUT THE AUTHOR:
Musa Budeiri is a Palestinian political scientist and a resident of East Jerusalem. He was born in West Jerusalem, Palestine, in 1946, and teaches politics in the Program for Democracy at the Faculty of Graduate Studies at Birzeit University.
RIGHTS INFORMATION:
Languages & Territories Where Rights Have Been Sold:
| Language/Territory | Publisher |
| --- | --- |
| Turkish/worldwide | Yordam |
Please contact subagents for the following languages and territories:
For all other languages/territories, please contact Roam Agency.