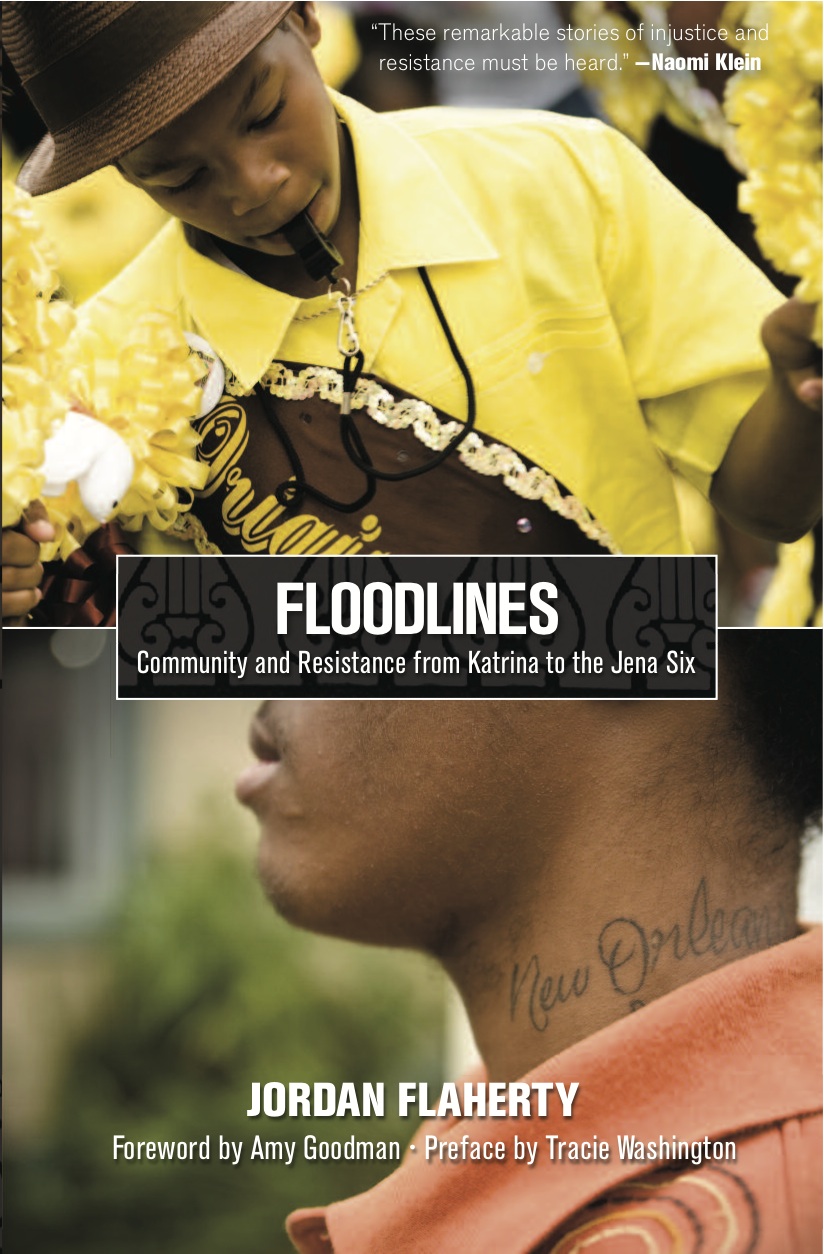 FLOODLINES
Community and Resistance from Katrina to the Jena Six
By Jordan Flaherty
Haymarket Books (August 2010, world English rights)
Paper • ISBN-13: 9781608460656 • US $16 • 5.25 in x 7.75 in • 250 pgs.
ABOUT THE BOOK:
Floodlines is a firsthand account of community, culture, and resistance in New Orleans. The book weaves the stories of gay rappers, Mardi Gras Indians, Arab and Latino immigrants, public housing residents, and grassroots activists in the years before and after Katrina. From post-Katrina evacuee camps to torture testimony at Angola Prison to organizing with the family members of the Jena Six, Floodlines tells the stories behind the headlines, from an unforgettable time and place in history.
PRAISE:
"This is the most important book I've read about Katrina and what came after. In the tradition of Howard Zinn this could be called 'The People's History of the Storm.' Jordan Flaherty was there on the front lines."
Eve Ensler, playwright, The Vagina Monologues, activist and founder of V-Day
"Jordan Flaherty brings the sharp analysis and dedication of a seasoned organizer to his writing, and insightful observation to his reporting. He unfailingly has his ear to the ground in a city that continues to reveal the floodlines of structural racism in America."
Tram Nguyen, author, We Are All Suspects Now:Untold Stories from Immigrant Communities after 9/11
"As the floodwaters rose in New Orleans, Jordan Flaherty began to write, rescuing precious truths about the reality of racism and solidarity in his city that risked being washed away in the tide of formulaic corporate journalism. I can think of no journalist that writes with deeper knowledge or more love about this highly contested part of the United States. With a new flood threatening life on the Gulf Coast — this time made of oil, not water, but powered, as always, by greed and neglect — these remarkable stories of injustice and resistance must be heard."
Naomi Klein, author, The Shock Doctrine
"A unique, firsthand account of race, culture and community in New Orleans, the book by award-winning N.O.-based journalist Flaherty provides a close-up of post-Katrina community organizing efforts, education and housing rights, as well as a broader view of criminal justice in 'post-racial' America. Widely praised, the book weaves interconnected stories of public housing residents, musicians, Mardi Gras Indians, Arab and Latino immigrants and grassroots activists."
New Orleans Times-Picayune
ABOUT THE AUTHOR:
Jordan Flaherty is a writer and community organizer based in New Orleans. In addition to his award-winning post-Katrina journalism, he was the first journalist with a national audience to write about the Jena Six case, and played an important role in bringing the story to worldwide attention. He has produced news segments for Al-Jazeera, TeleSur, and Democracy Now!, and appeared as a guest on a wide range of television and radio shows, including CNN's American Morning, Anderson Cooper 360, CNN Headline News, GRITtv, Keep Hope Alive with Reverend Jesse Jackson, and both local and nationally-syndicated shows on National Public Radio.
RIGHTS INFORMATION:
Please contact subagents for the following languages and territories:
For all other languages/territories, please contact Roam Agency.