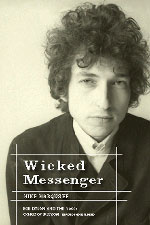 WICKED MESSENGER
Bob Dylan and the 1960s
By Mike Marqusee
New edition, substantially revised. First published under the title The Chimes of Freedom.
Seven Stories Press (2005)
Paper • ISBN-13: 9781583226865 • US $16.95 • TK in x TK in • 336 pgs.
ABOUT THE BOOK:
Bob Dylan's lyrics are at once abstruse and evocative, urgent and timeless. But, as Mike Marqusee's compelling new book makes clear, behind the anarchy and playfulness of Dylan's imagery lie meanings that are often highly charged with political and social concerns.
It was blues and folk songs that first led Bob Dylan to politics. But it was politics that unlocked his own astonishing songwriting ability, evidenced by dazzling responses in the early 1960s to the civil rights movement and the threat of nuclear war. Marqusee traces the young song-writer's subsequent reluctance to be pigeonholed, his rejection of "protest," and his turn to electric rock at the Newport Folk Festival in 1965. He shows the way folk tradition, modernism, and commercial popular culture are sublimely fused in Dylan's masterworks of the mid-1960s, notably on the albums Highway 61 Revisited and Blonde on Blonde, and discusses the artist's quest for American identity-amid the continuing carnage in Vietnam and growing chaos at home — in The Basement Tapes.
Following his acclaimed study of Muhammad Ali, Redemption Song, Mike Marqusee again demonstrates an engaging ability to fuse biography and politics, storytelling and original insight.
PRAISE:
"In this remarkable reflection on the culture of the sixties, Mike Marqusee restores the forgotten moral and political contexts of Dylan's supernova years. In doing so, he rescues one of the most urgent poetic voices in American history from the condescension of his own later cynicism."
Mike Davis, author, City of Quartz
"[Wicked Messenger] offers a fascinating and detailed analysis of the forces that shaped the politics of the folk revival, and argues, I think convincingly, against the cynical interpretations Dylan later put on his own contributions to the civil rights movement — the most famous instance of which was his claim that he wrote 'Masters of War' because he knew it would sell. Marqusee carefully considers the vastly different commercial contexts of the first and second waves of folk: while Guthrie wrote for those dispossessed and poverty-stricken by the Great Depression, and his recordings never achieved particularly wide distribution, Dylan's fast-growing audience consisted largely of the affluent offspring of the Cold War — middle-class non-conformists sickened by corporatism, mutually assured destruction, and the various discontents of the new consumer society. Dylan's journey from the world of earnest folk-protest to the iconoclastic, hallucinatory energies of his mid-1960s music provides as good a perspective as any on the origins and birth of the counterculture."
Mark Ford, Times Literary Supplement
ABOUT THE AUTHOR:
Mike Marqusee (1953–2015) was born in the United States and emigrated to Britain in 1971. He was the author of a novel, Slow Turn, and five nonfiction books: Defeat from the Jaws of Victory (with Richard Heffernan), Anyone But England and War Minus the Shooting. Redemption Song: Muhammad Ali and the Spirit of the Sixties is due soon in a new edition from Verso. He was a Senior Research Fellow at the Centre for Sport Development Research at Roehampton Institute, London, and wrote on politics and popular culture for the Guardian (London) and the Hindu (India).
RIGHTS INFORMATION:
| Language/Territory | Publisher |
| --- | --- |
| Italian/worldwide | Il Saggiatore |
| Turkish/worldwide | Paris |
Please contact subagents for the following languages and territories:
| Language/Territory | Subagent |
| --- | --- |
| China, Taiwan, Indonesia, Malaysia, and Vietnam | Big Apple Agency |
| English outside North America | David Grossman Literary Agency |
| German | Paul & Peter Fritz AG Literatur Agentur |
| Greek | Read n' Right Agency |
| Hebrew | The Deborah Harris Agency |
| Italian | The Nabu International Literary Agency |
| Japanese | The English Agency (Japan) Ltd |
| Korean | BC Agency, or Korea Copyright Center |
| Portuguese | RIFF Agency |
| Russia/Baltics/Eastern Europe | Prava I Prevodi |
| Scandinavia: Sweden, Norway, Finland, Denmark, Iceland | Brandt New Agency |
| Spanish in Latin America | International Editors' Co., S.A. |
| Spanish in Spain | International Editors' Co., S.A. |
| Turkish | Anatolialit Agency |
For all other languages/territories, please contact Roam Agency.